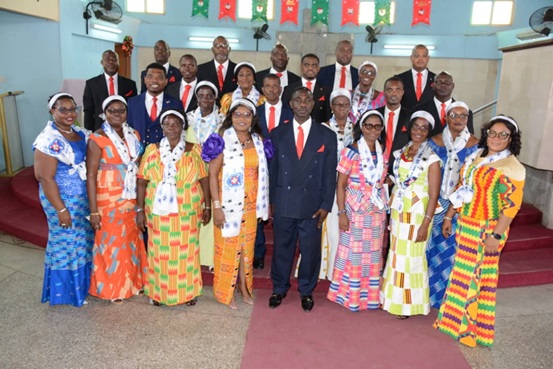 The newly-inducted Presbyters in a group picture
TWENTY-FIVE newly elected Presbyters have been inducted into office to serve a four-year term by the La Nativity Congregation of the Presbyterian Church of Ghana (PCG).
The Presbyters were made of 13 males and 12 females, and were among over 200 members who were nominated and taken through vetting process before their elections supervised by the evoteminder.
The inducted Presbyters are Seth Clottey (Senior Presbyter), Edmund Odamtten (Session Clerk), Christopher Kotei (Assistant Clerk), Abigail Lamptey (Treasurer), Godwin Dodoo, Seth Anangfio, Edmond Yemoh, Nicholas Adjah, Theophilus Ankamafio, Rebecca Torgbor, Fredrick Hesse and Ebenezer Akpor.
The rest are Irene Odamtten, Cynthia Ankamafio, Joyce Amon-Ofosu, Raphael Manieson Nii Kwao Ashitey, Juliet Tetteh-Bio, Florence Agoe, Ruth Yemofio, Henrietta Karikari, Irene Dedei Annan, Edmund Nii Armah Tagoe, Regina Dedei Annan and Veronica Larsey.
The Resident Minister, Rev. Daniel Lankai Lawson, congratulated the new Presbyters for taking up the baton to help in the management of the church.
In a sermon on the theme: 'The Gospel, The Power of God,' the priest indicated that leadership roles, especially in the church, were not accepted easily by people.
He cited the story of Moses in which the prophet made excuses when he was called by God to lead the Israelites out of Egypt.
According to him, God, at a point got annoyed by Moses' excuses, and praised the new presbyters for availing themselves to work in God's vineyard.
Rev. Lawson admonished the presbyters to always get connected to Jesus Christ in their daily activities to tap into His power in order to help them in their service to the congregation.
"Daily, you need to be connected to that source of power else you can't do the work you have been called into as presbyters. Daily, tap power from that source, not weekly, not monthly but daily. Seek power from that source and those who rejected you will come seeking for you", he stressed.
By Christopher Kotei
Read Full Story