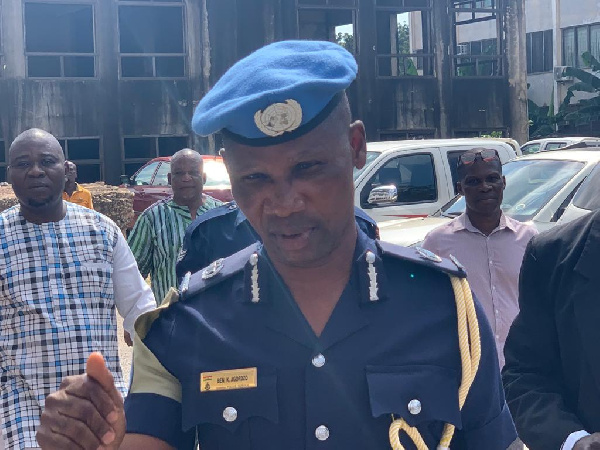 Assistant Commissioner of Police Dr Benjamin Agordzor who was arrested for his alleged involvement in a coup plot, has spoken for the first time suggesting he was targeted for being critical of the system.
He told journalists outside a courtroom in Accra Wednesday that he would not allow the "frivolous" charges which he said were trumped up by the state, to weigh him down in his criticisms.
"These charges are frivolous. I'm strong as anything. I'm not going to be bogged down, nobody can gag me. I have not committed any crime; I've done nothing wrong," he said after a brief court appearance Wednesday.
ACP Agordzor who is the Director of Transformational Programme Office at the Ghana Police Service was arrested Monday afternoon. Though officials charges have not been announced, it is reported he has been charged with abetment to commit treason.
He expressed surprise that he is being 'targeted' for expressing his opinion on a social media platform when the President, Nana Akufo-Addo in his inaugural address on January 7, 2017, asked Ghanaians to be citizens and not spectators
"I mean the president called upon us to be citizens so when I express my opinion on a WhatsApp platform unrelated to any alleged coup, nobody should bog me down and I will stand for this," he said.
Insisting on his innocence in the matter, ACP Dr Agordzor said he will "stand for this till the end. They cannot break me down at all", indicating that despite the case against him, he is still "strong as anything".
Police prosecutors on Wednesday morning put him before the Kaneshie District Court in Accra without charges, ostensibly to seek a remand as they were racing against time in fulfilling the 48-hour constitutional provision within which an arrested suspect ought to be put before court.
What is the case?
ACP Agordzor is alleged to have funded the activities of the coup plotters with 2000 Ghana cedis.
His lawyer, Martin Kpebu, though admitted that his client indeed parted with the amount, he explained the amount was for a "philanthropic activity at Agbobloshie" in Accra.
At least 7 persons including a medical doctor and serving military personnel are facing trial for plotting to overthrow the Akufo-Addo-led government.
The government announced a joint security services operation on September 20, 2019, led to the retrieval of several arms, explosive devices and ammunition from locations within Accra and Kpone-Bawaleshie in Dodowa.
Information Minister, Kojo Oppong Nkrumah said three persons including a medical doctor were arrested in the operation, noting they were a part of group of persons who were planning to target the presidency and destabilise the country.
"The arrest and seizure come after 15 months of surveillance and gathering of evidence on the activities of the prime suspects and others," he said in a statement.
Five persons, Dr Frederick Yao Mac-Palm, said to be the leader of the group, and Ezor Kafui, a local weapon manufacturer, Bright Allan Debrah Ofosu, Colonel Samuel Kojo Gameli and a civilian employee of the Ghana Armed Forces, Gershon Akpa, have since been put before court.
Read Full Story