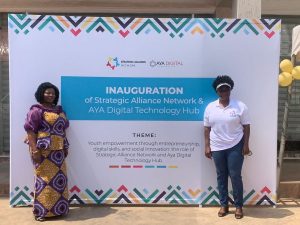 Dignitaries and founders cutting the tape to the facility.
FORMER Municipal Chief Executives (MCEs) of the Ga East and Tema West Municipalities have jointly inaugurated the Strategic Alliance Network and AYA Technology Hub (SAN-ADTH) – a tech-based training outfit for the youth of Ghana.
Dr. Janet Tulasi Mensah and Madam Adwoa Amoako, former MCEs of Ga East and Tema West Municipalities respectively, officially launched the tech company in Accra, thereby opening its doors to prospective students.
In her remarks, the Executive Director of SAN, Dr. Mensah explained that the tech hub was established with the aim of empowering women through skill training and community development.
SAN Ghana, she noted, is a women-led not-for-profit, non-governmental organization focusing on girl child education and women empowerment through skill training, and community development activities.
"Our goal is to help in directing aid to communities where they are much needed and likely to create the desired impact.
"SAN Ghana, therefore, recognizes the need to commit to targeting the right persons at the right time with the right resources, to give them an edge to maximize their skills within their entrepreneurial space", she stated.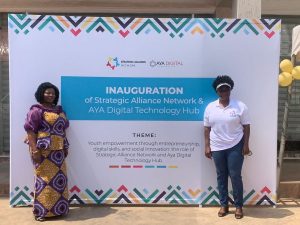 Madam Adwoa Amoako (left) and Dr. Janet Tulasi Mensah (right), founders of the tech hub.
On her part, CEO of AYA Digital Technology Hub, Adwoa Amoako said the tech hub was established to open doors of possibilities for the youth through digital technology.
She intimated that the consequences of youth unemployment are very dire and deserve to be given critical attention in a manner that would produce strategies in dealing with them.
According to her, research findings from the Ministry of Employment and Labour Relations revealed that about 300,000 young people enter the Ghanaian labour market every year with less than 6000 (representing 3%) getting jobs.
Furthermore, findings from the Ghana Statistical service and historical evidence show that youth unemployment in Ghana is due to failure of the economy to generate sufficient employment outlets for more than a threefold increase in youthful population over the last 40 years.
"It is against this backdrop that AYA Digital Technology Hub seeks to provide the platform to train and equip the youth to give more meaning to ICT development and entrepreneurship in Ghana.
"We seek to train young people, especially women, in Digital Skills, Web Development, Data Science and Analytics, Digital Marketing, and many more", she indicated.
BY Nii Adjei Mensahfio
The post Former MCEs Inaugurate Tech Hub appeared first on DailyGuide Network.
Read Full Story