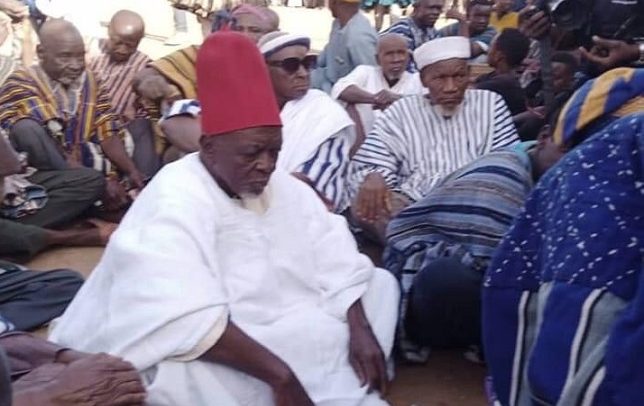 Alhaji Seidu Abagre enakinned as Bawku chief at the Nayiri's palace in Nalerigu
The government has rejected the enskinment of one Alhaji Seidu Abagre as the chief Bawku by the King of the Mamprugu Traditional Area, Naa Bohugu Mahami Abdulai Sherigah II.
A statement signed by the Information Minister , Kojo Oppong Nkrumah read " The Government condemns developments in Nalerigu today February 15, 2023, concerning the purported enskinment of a new Bawku Naba as illegal and a threat to National Security."
According to the minister, Naba Asigri Abugrago Azoka I l is the Bawku Naba, duly gazetted and a member of the National and Upper East Regional Houses of Chiefs.
He indicated that the Security agencies have been directed to arrest and prosecute any other person who holds himself out as a Bawku Naba adding that any developments that have the potential to undermine the peace of Bawku will also be dealt with swiftly and in accordance with the law.
Residents in Nalerigu were seen jubilating on the streets amidst drumming and dancing to celebrate the enskinment of Alhaji Seidu Abagre as the new Bawku Chief.
Meanwhile , security has been beefed up at the Nayiri Palace and the Nalerigu township to prevent any disturbance after the esnkiment.
DGN Online gathered that the newly enskinned Bawku chief is expected to be accompanied by elders of the Nayiri's palace to Bawku after all the traditional rituals are performed.
There has been massive tension in Bawku in the Upper East region due to the conflict between the Manprusis and Kusasis which has resulted in the death of over six persons with several persons sustaining various degrees of injury recently.
FROM Eric Kombat
Read Full Story