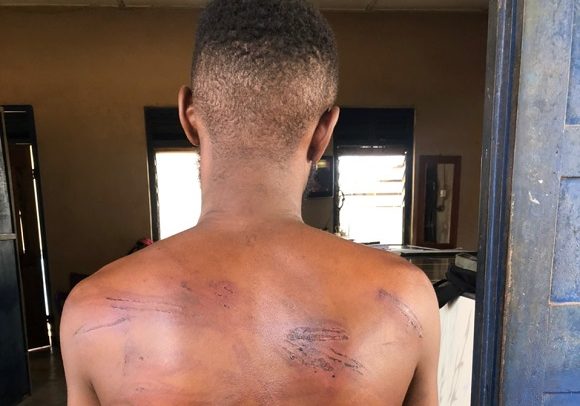 Bismark Nyantakyi showing his wounds to the police
A MAN has suffered severe body wounds after being tied to a wooden pole and whipped mercilessly by four men.
The four suspects, reportedly, accused Bismark Nyantakyi, the victim, of stealing, so they applied instant justice to him.
According to the Mampong Dsitrict Police, the incident happened at Adanwomase in the Ashanti Region at 3pm on February 7, 2023.
Nyantakyi, who personally reported his ordeal to the police on February 8, 2023, managed to mention the names of his attackers to the police.
He mentioned one Lampard, Pharoah, Aguero and Atta, all males and residents of Adanwomase, as those who manhandled him.
Nyantakyi said the four persons grabbed him and forced him into a waiting car, and speeding off to Pharoah's house at 3pm on February 7.
Whilst in Pharaoh's house at Adanwomase, he said the suspects tied him to a "wooden log and whipped him mercilessly with canes and waist belts."
"According to the victim, suspects claim they saw him loitering in the house of suspect Pharaoh on the night of February 6, and they suspected him of going there to steal," a police report said.
The victim refuted their accusation, stating that he went to the said house to visit a friend, nicknamed 'Party', who lives in the same house.
The police said photographs of Nyantakyi's wounds were taken and a medical form was issued him to seek medical attention.
Meanwhile, efforts are underway to arrest the four suspects to assist in investigations.
FROM I.F. Joe Awuah Jnr., Kumasi 
Read Full Story