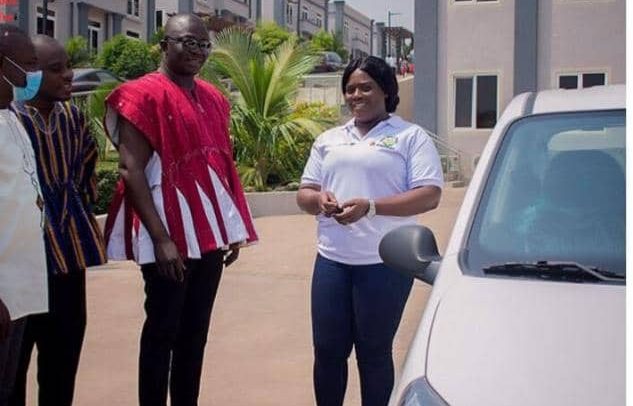 Member of Parliament (MP) for Abetifi in the Eastern Region, Bryan Acheampong has presented a brand new Suzuki Swift SRS Vehicle to the best Midwife in his constituency.
The MP made the promise on  December 23, 2021, during an event, organized for healthcare workers in his constituency.
At the presentation held at Rock City Hotel in Nkwatia Kwahu, Bryan Acheampong reiterated his commitment to the growth of healthcare delivery in the Kwahu East District.
According to him, "We all know the promise I made at last year's event for the health workers, especially the Best Midwife in the district at the end of the year, but we all got carried away and so I couldn't keep my promise of the end of 2021 and, I apologize for that, it's three weeks late, but we are here".
He commended the midwife for her efforts which won her the award, adding that, midwives have carried out the district's health and safety cases for 12 months, without a doctor, but have not recorded a single maternal death.
He continues "Mrs. Joyce Boampong has done so well and so we are here today to present to the best midwife with the car we promised her. It's a brand new Suzuki swift".
Bryan Acheampong also promised to deliver motorbikes to the district health directorate to be given to 10 individual health workers to support their work.
Acknowledging the gesture, Mrs. Boampong thanked God and the MP for his enormous contribution towards the growth of healthcare delivery in the district.
– BY Daniel Bampoe
Read Full Story