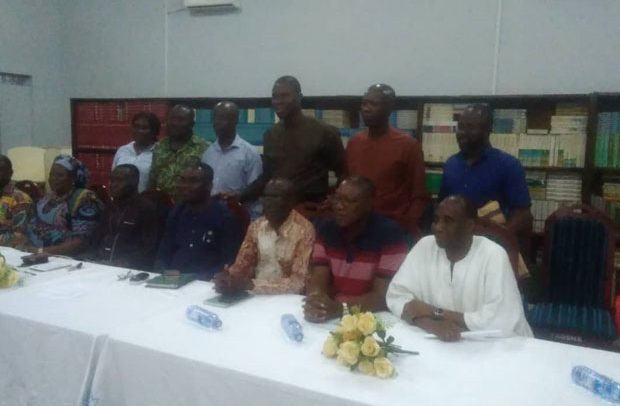 Members of the committee
The Headmistress of Yaa Asantewaa Girls' Senior High School (YAGSHS) in Kumasi, Asuande Eshun Fameye, has praised the double-track system for improving access to second cycle education in the country.
She said the new system had doubled the intake of qualified students into senior high schools and it would reduce the rate of illiteracy which had been a canker for the nation's growth and development.
Government introduced the double-track system in schools facing infrastructural challenges to accommodate the overflow of large numbers of students admitted under the Free SHS programme — one of the flagship programmes of the Akufo-Addo administration.
Speaking during an interaction with members of the Parliamentary Select Committee on Education at the school, Madam Fameye described the new system as a laudable initiative and called for the public to support it.
She, however, wanted the new system to be phased out after two years of implementation since it had overstretched administrators and non-teaching staffs, particularly kitchen staff and labourers.
"These category of staff work throughout the year, and they become fatigue," she noted and added that notwithstanding the relevance of the Free SHS, it had also made some parents shirk their responsibilities towards their children.
For Madam Fameye, education is a shared responsibility, for which reason parents must be made to play a role in educating their children.
She pleaded with government through the committee to reconsider the cancellation of the Parent Teacher Association (PTA) levy, which she said contributed immensely towards efforts to improve infrastructure on campuses.
The Chairman of the Parliamentary Select Committee on Education, William Agyepong Quaittoe, thanked the headmistress for her openness and also sharing her concerns about the programme.
He said the committee had taken note of all the concerns and would accordingly report for redress.
From Ernest Kofi Adu, Kumasi
Read Full Story