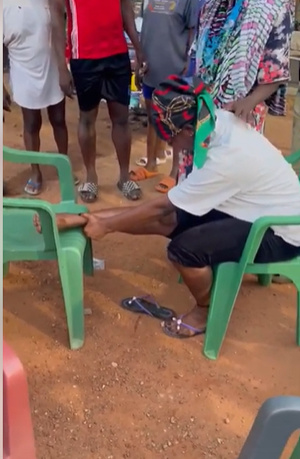 Two persons have reportedly been arrested after masked assailants carried out an attack on 15 persons who were waiting to register for their Voter ID Cards at the Okaikwei North District office of the Electoral Commission in Achimota during the early hours of Sunday morning.
Member of Parliament for Okaikwei North, Theresa Awuni, in a Facebook post announced that two individuals, believed to be linked to the attack, have been apprehended.
Awuni went further to allege that the attackers were affiliated with the New Patriotic Party (NPP) and emphasized that further actions would be determined based on the outcome of the arrests.
She stated, "we come in peace, but I am sending a warning to all the elephant members [referring to NPP] in Okaikwei North that they should not start what they cannot finish. This dawn, my boys were attacked by known NPP thugs, masked up, and seized their money, phones, and other items as they queued up at the registration centre.
Unfortunately for them, two were arrested. I patiently await the outcome of this arrest because that will determine our next line of action. Mind you, we are very prepared for ANYTHING."
Meanwhile, in an interview with Joynews, the victims said the attack left them with wounds and injuries.
Gifty Dogbe, one of the victims said, When I was running, they threw the stick and it hit my leg. I tried to wake up again but that one, I fell on the stones . My leg is paining me, is shivering, I can't walk.
According to eyewitnesses the unidentified men attacked them and went away with about 11,000 cedis and mobile phones, Elorm Mario Deborah lost her 150 dollars.
Our phones, our money,a lot of people's money, my phone, Iphone, I had 150 dollars at the back is stolen, my colleagues phones and everything is gone
According to sources, these attackers disrupted the queue, resulting in injuries to several individuals, before fleeing the scene. Among the victims was a lactating mother who was struck with a stick.
The attackers stole money, mobile phones, and other personal belongings from those who were waiting to register.
Five victims have however been hospitalised. There have been increasing calls from Civil Society Organizations (CSOs) and political parties to decentralize the limited voter registration process away from the Electoral Commission offices.
These calls seek to enhance the safety and security of registrants as they exercise their democratic rights. Dr. Serebuor Quaicoe, the Director of Electoral Services at the Commission emphasizes that the Electoral Commission's primary responsibility is safeguarding the integrity of the voters' register.
He argues that calls to extend limited voters' registration to electoral areas, rather than district offices, prioritize increasing registrants over maintaining a clean register. He believes district offices are better equipped to ensure the register's sanctity.
Author: Gideon Nicholas Day
Read Full Story