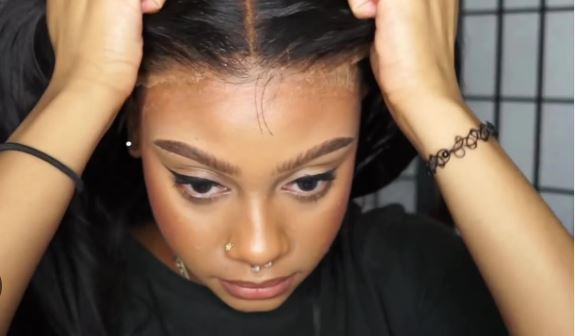 Frontal wigs are trendy right now because they stay in one place and do not move around like closure wigs. Plus, if well done, they look just like a person's natural hair.
A lace front wig is pretty essential to those who love frequently styling their hair, mimicking the scalp and making it look like your natural hair without damaging your actual hair.
It is easy to put on lace front wigs but it's pretty complex when it comes to removing it.
Want a healthy scalp? Here are 4 easy hacks for removing lace front glue:
Both cream and oil are ideal options for permanently getting rid of the marks that have lingered in the hairline and scalp for an extended time. You can use lotion or any cream you desire. You can add some emollient oil for added effectiveness.
Let it sit in your lace front for 5 to 10 minutes or longer if needed. If it's taking longer than the expected waiting time, you can massage your scalp 'til the hair system is easy to remove. Repeat this for the desired result in removing lace front glue without alcohol.
This hack is the most convenient of all hacks for removing lace front glue without alcohol.
You can use a conditioner as a softener to remove the glue-tight front lace from your scalp and spread it all over the lace part to remove the glue residue. Not only is this the cheapest option, but you can also keep your natural hair healthy.
Add salt to baking soda and then lukewarm water
One of the easiest hacks in removing lace front glue without alcohol is using a mixture of water with a little bit of salt and baking soda, but you need to understand that this is also the most time-consuming hack of all. Before anything else, add and mix water, salt, and baking soda in a container. Make sure to mix properly. Once you think it is thoroughly mixed, transfer the mixture to a spray bottle for easy usage.
Spray it all over the frontal lace, then put on a shower cap for the next 5 to 10 minutes. Carefully remove the lace part of the wig. Then, use warm water to wash your natural hair very well. Do this over and over again if needed.
Vaseline is one of the easiest, safest, and gentlest hacks for removing lace frontal.
All you have to do is take an ample amount of Vaseline and spread it in your entire hairline where the front lace is.
Wait for a minute or two, and check if it is soft enough to be removed without exerting too much force. Use a warm wet towel to remove the residue of the Vaseline, this way, you won't worry about the mess both in your hair system and hairline. Repeat applying Vaseline if needed to have the desired result.
Read Full Story