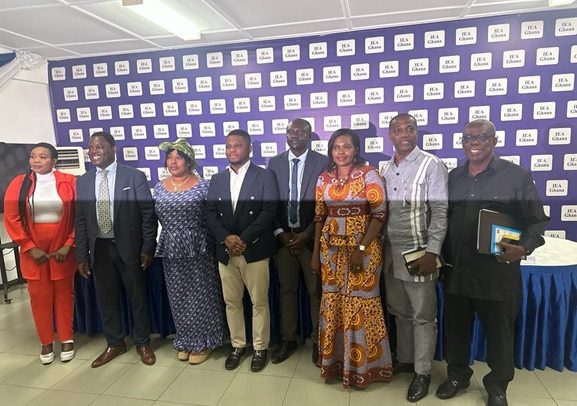 Speakers at the program
Former National Chairman of the New Patriotic Party (NPP), Peter Mac Manu, believes that after 30 years of governance under the 1992 Constitution, it was time to practice democracy at the grassroot level.
According to him, political parties should not be restricted under Article 55 Chapter 3, saying "if we believe that we are living in a democracy, then we have no reason to restrict political parties from engaging  in some democratic exercises".
He thus called for the Amendment of Article 55 Chapter 3 to allow political parties participant in district level elections.
He  said it was time political parties are given the freedom to endorse, spornsor, and campaign during district assembly elections, which is done else where in Africa like South Africa, Zambia, Tanzania, and Kenya.
"If we profess to be democratic, then we must be democratic from the grass root level up to the national level" he continued.
He furher commended the Institute Of  Economic Affairs (IEA) Ghana for consistently and deligently championing democracy in Ghana and beyond.
"We are guided by the 1992 Constitution of Ghana in Article 35 Capter 1, that Ghana shall be a democratic state, dedicated to the realisation of freeedom and justise, and accordingly sovereignty presides in the people of Ghana for whom the government derives all its powers and authority."
He was speaking at the IEA Dialogue on the theme "Constitutional Amendment: View points of political parties."
He highlighted the need for Ghanaians to learn to tolerate each other as stated in the 1992 Constitution.
"We are further guided by Article 35 Chapter 9 of the 1992 Constitution, which provides that the state shall promote among the people of Ghana the culture of political tolerance, we must tolerate each other "he added.
He also presented that the 1992 Constitution under Article 55, gurantees the right to form political parties and every citizen of voting age has the right to join a political party of his choice, a right to participate in political artivities intended to influence the composition and policies of the government .
Communication Officer of the National Democratic Congress (NDC) Sammy Gyamfi  said the NDC holds a view that Article 781 of the constitution should be reviewed ,that is the President should be given the free hand to appoint majority of his ministers from parliament but the NDC propose that a minimum of 30 percent of appointments should be females.
"We believe that where the constitution provides for Parliament to approve certain acts, decisions or to elect certain persons, such elections should not be by secrect ballot, this is in line with the principle of probity and accountability in the 1992 constitution," he stated.
"Members of parliament are representatives of the people, and we believe that as it pertains in our advance democracies the people should have the right to access the vote pattern of their members of parliament," he added.
By Nafisatu Abdul Razak 
Read Full Story