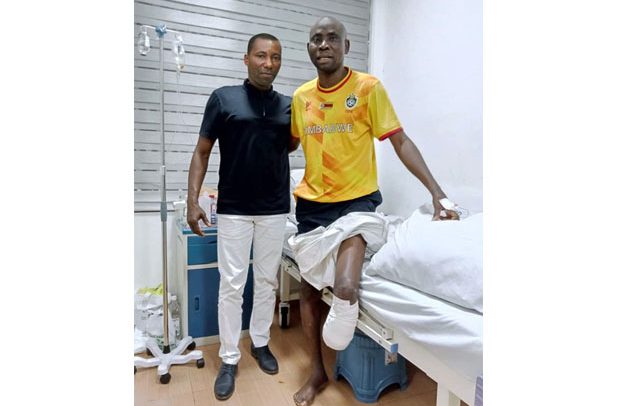 Kenpong (L) with Bahmed
Kenpong Football Academy president, Mr. Kennedy Agyepong (Kenpong), has honoured his word by paying for the medical bills of Alhaji Ahmed Bandoh (Bahmed).
Bahmed, a former Asante Kotoko board member, has been hospitalised after losing his left leg through amputation.
Few days ago, the Winneba-based football academy president visited Bahmed at the Police Hospital in Accra and promised to cater for his medical bills amounting to several thousands of cedis.
And backing his word with action, Kenpong, also a former Asante Kotoko board member, paid for the bills.
Bahmed, who is recovering steadily from the unfortunate incident, after receiving the cash, expressed appreciation for the gesture saying, " Tell Kenpong I am indeed grateful for fulfilling his promise, times are hard but he has been able to raise such an amount as he pledged.  He has supported me greatly in many ways, this is the least among them. May Allah continue to bless him and his businesses."
Kenpong Football Academy is a subsidiary of the Kenpong Group comprising Kenpong Travel and Tours, Ice Gold natural mineral water, Kenpong Construction (roads, building) and many other companies.
Last November, the travel and tours wing of the company, the official travel agency (Ghana) for the FIFA World Cup handled the travel programme successfully in Ghana and Qatar.
Read Full Story