World leaders past and present, traditional rulers and global royalty on Thursday joined the family of Kofi Annan, as the former UN secretary general's state funeral took place in his native Ghana.
Hundreds of dignitaries, most of them dressed in black mourning clothes, gathered at the Accra International Conference Centre, to mark the end of three days of national mourning for the respected diplomat.
Annan's casket was centre stage at the religious service and surrounded by flowers and candles.
The current UN Secretary General, Antonio Guterres, led mourners from the diplomatic corps, while there were representatives of the African Union, the West African bloc ECOWAS, and presidents from across Africa and beyond.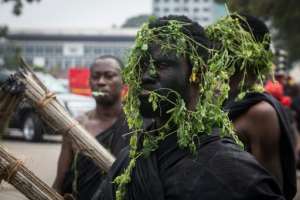 Ghanaians including local chiefs have paid their respects to Kofi Annan since his coffin was returned from Geneva on Monday. By Ruth McDowall (AFP)
Royalty included Princess Beatrix, the former queen of the Netherlands, and her daughter-in-law Princess Mabel, who were close friends of Annan.
Annan led the UN from 1997 to 2006 and was the first from sub-Saharan Africa to do so. He died on August 18 aged 80 at his home in Switzerland after a short illness.
The funeral will be followed by a private burial at the capital's military ceremony and a 17-gun salute.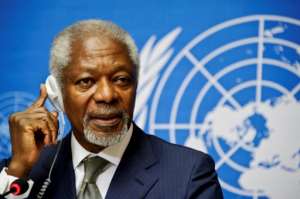 Kofi Annan has been described as a 'diplomatic rock star'. By SEBASTIEN BOZON (AFP/File)
The Anglican bishop of Annan's home city of Kumasi in southern Ghana, the Most Reverend Daniel Sarfo, said: "Today history is being made in Ghana. One of our illustrious sons is lying here.
"But we are grateful that God used him over the years to work for humanity, for peace. Today, as he lies here, he has finished his work.
"We pray that all of us will emulate the service that your son has rendered to mankind. No matter what we are we will also die," he told the congregation.
Ordinary Ghanaians and dignitaries have paid their respects to Annan since his coffin was returned from Geneva and received with full honours on Monday.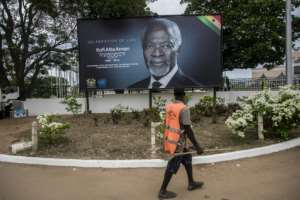 The body of former UN chief Kofi Annan has been kept at Accra International Conference Centre prior to the state funeral. By CRISTINA ALDEHUELA (AFP)
Thousands of people have filed past the coffin, which was draped in the red, green and gold national flag and guarded by the military in ceremonial uniform.
One mourner, Fritz Kitcher, who spent his career working in human rights for the UN in Geneva, said he had seen Annan rise through the ranks.
Annan had taught him "the benefit of humility, the benefit of honesty, the benefit of decisiveness, and diplomacy from the grassroots," he told AFP.
Others described Annan as a father-figure and a source of national pride.
'Diplomatic rock star'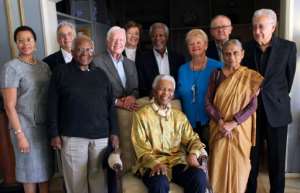 Annan was a member of 'The Elders' group set up in 2007 by Nelson Mandela (seated) along with the likes of Desmond Tutu and former US president Jimmy Carter. By Jeff Moore (The Elders/AFP/File)
Annan devoted four decades of his working life to the UN, and was known for bringing quiet charisma to the role.
He was widely credited for raising the world body's profile in global politics during his two terms in office, facing challenges including wars in Afghanistan and Iraq.
Annan was awarded the Nobel Peace Prize in 2001, as the world was reeling from the September 11 terror attacks in the United States, jointly with the UN "for their work for a better organised and more peaceful world".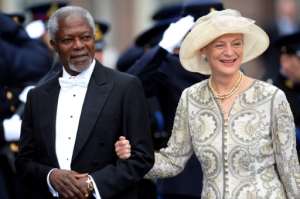 Annan's wife Nane Maria survives the former UN chief. By PATRIK STOLLARZ (AFP)
He left the post as one of the most popular -- and recognisable -- UN leaders ever, and was considered a "diplomatic rock star" in international circles.
He kept up his diplomatic work, taking mediation roles in Kenya and Syria, and more recently heading an advisory commission in Myanmar on the crisis in Rakhine state.
He acted as a negotiator between the government and the opposition in Kenya after post-election violence at the end of 2007, leading to the formation of the Grand Coalition government.
Annan is survived by his wife Nane Maria, his children and grandchildren.
Read Full Story