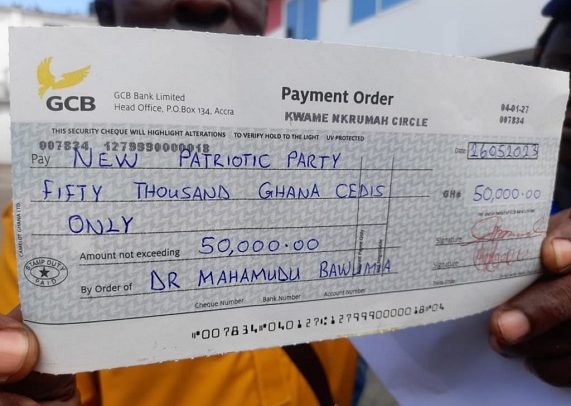 In a surprising turn of event, the National Executive of the governing New Patriotic Party (NPP) has rejected a cheque from a group calling itself the Bawumia Fun Club.
The group attempted to pick presidential nomination forms for Vice President, Dr. Mahamudu Bawumia on Friday upon presentation of GHC 50,000 cheque, but the party refused to issue the forms because the club had no authorisation from the campaign team of the vice president.
According to the Bawumia Fun Club, the Vice President deserves to be the party's presidential nominee to help the NPP retain power in the upcoming 2024 elections, a goal commonly referred to as 'Breaking the 8.'
However, the party demanded that the group provide an authorisation note, which they could not produce, and as a result, the group could not pick up the nomination forms on behalf of the Vice President.
The group had to go to Jubilee House to get endorsement from the vice president office, but they were told that they are trying to consolidate all the support groups intending to procure forms for the vice president's presidential bid and issue one cheque for the forms.
The rejection of the cheque by the NPP National Executive has raised eyebrows among political commentators, as it questions the legitimacy of the activities of support groups in the party.
It also highlights the ongoing debate around who will replace the sitting president, Nana Akufo-Addo, after his second and final term in office.
Many political pundits have predicted a keen contest between Dr. Bawumia and former Trade Minister, Alan K. Kyerematen, for the party's presidential ticket. With tension mounting in the party, it remains to be seen how the situation will unfold in the coming months.
Nonetheless, the NPP is expected to hold its Presidential primaries in late 2023, which will determine the party's presidential nominee for the 2024 elections. Until then, the race for the flagbearership of the ruling party remains wide open.
By Vincent Kubi
Read Full Story