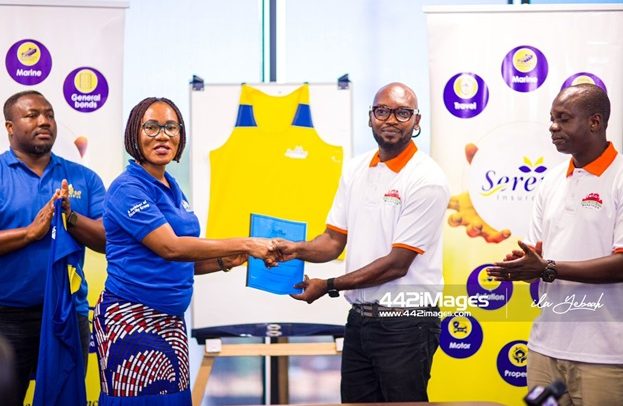 Serene Insurance officials (L) presenting the sponsorship package to Medivents' General Manager
Serene Insurance Ghana Limited, one of the leading insurance companies in Ghana, has announced that they will provide a personal accident insurance cover for 1,000 participants at the second edition of the Accra Inter-City Homowo Marathon, fixed for July 29.
The package, worth GH¢1,000,000, is to provide cover for 1,000 athletes, at a unit cost of GH¢1,000 per athlete during the race.
In addition, the company will provide the organisers with 400 running vests for participating athletes worth close to GH¢20,000 cash donation for the organisation of the event and a 90-day Travel Insurance Policy for the winner.
CEO of Serene Insurance Ghana Limited, Mercy Naa Koshie Boampong, said marathons were very significant for promoting tourism, good health and physical fitness, and a healthy lifestyle, hence the decision of her outfit to be the headline sponsors of the event.
She also stated that marathons help in promoting cities and towns across the world, as well as festivals, adding that for the event to be situated within the Homowo period offers wider coverage and greater benefits to all.
"Serene Insurance believes that the Accra Inter-City Homowo Marathon has the potential to be a major and leading event not only in Ghana, but across the sub-region and Africa, and it is our desire to grow with this noble initiative, as we are looking forward to greater things," she stated.
General Manager of Medivents Consult, Henri Senyo Penni, expressed appreciation to the insurance company for their support.
He announced that, aside the 21-kilometer race, which is the flagship event; there shall be 10 and 5 kilometer races as well.
The Accra Inter-City Homowo Marathon is fixed for Saturday, July 29, from the Accra Stadium through some principal streets to Mantse Agbona, James Town. It is part of the activities marking the annual Homowo Festival, and over 1,000 athletes are expected to participate in the race.
From The Sports Desk
Read Full Story