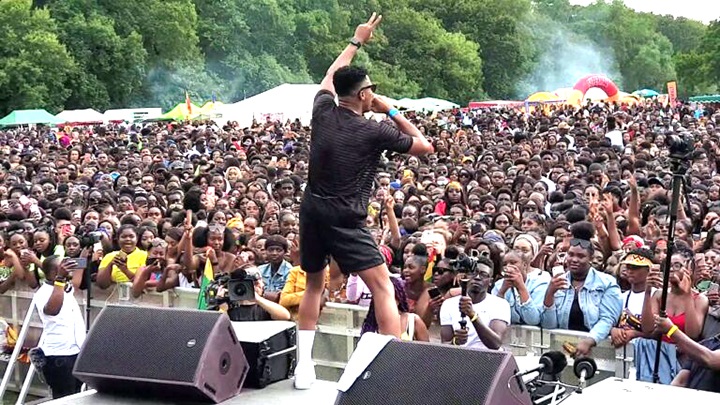 A scene from the previous event
This year's edition of 'Ghana Party in the Park' and 'Expo Ghana' have officially been announced by Akwaaba UK and the British High Commission in Ghana.
'Ghana Party in the Park', which is now one of the largest Ghanaian outdoor event in the United Kingdom, will take place on Saturday, July 15, 2023 at Trent Park, Cockfosters in London.
The ultimate goal of the event is to showcase Ghanaian music, food, arts and fashion to the world.
It is marketed as a fun day for the whole family and features a variety of activities for all ages, including a children's area, a durbar of chiefs, musical performances by famous African artistes, a food court, an exposition of African goods and services, and more.
'Expo Ghana' is also a platform for made-in-Ghana products to be showcased in the United Kingdom for patronage, and create opportunities for Ghanaian entrepreneurs.
Organisers say following the success of the maiden edition of 'Expo Ghana', this year's event, which precedes the 'Ghana Party in the Park', will be held for two days—Wednesday, July 12 to Thursday, July 13, 2023 at the Canary Wharf Hotel, London.
Dennis Tawiah, CEO of Akwaaba UK, was represented at the launch by Mr. Chris Koney, a member of the Akwaaba UK team.
Chris Koney, in a speech said: "African made products are quickly gaining prominence in global markets and to ensure Ghana capitalises on this growing interest, Expo Ghana was created last year to provide the platform for made-in-Ghana products to be showcased and create opportunities for Ghanaian entrepreneurs in the UK. We are extending the event by one day this year to accommodate the real estate and construction industries in response to the stakeholders' requests and the favourable comments from attendees from previous year."
On his part, Harriet Thompson, the British High Commissioner to Ghana, praised Akwaaba UK for the excellent initiative to open doors for both UK and Ghanaian businesses as well as providing a forum for discussions between Ghanaian and UK industry leaders to consider joint ventures and creating synergies.
She also praised Akwaaba UK for continuing the 'Ghana Party in the Park' over a decade and expanding it into one of the highlights on the UK's calendar of African entertainment.
The event, which started in 2005, attracts over 10,000 people from around the UK, Ghana, Holland, Germany, France, Canada and the US.
Read Full Story