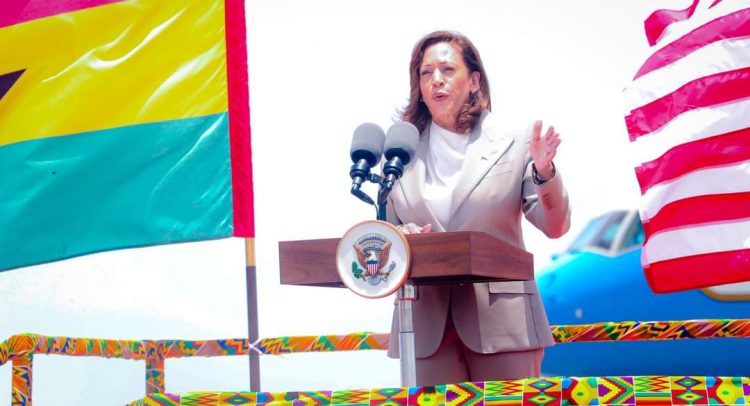 Kamala Harris
We are excited that our country is hosting a Vice President of the United States as we recall a similar visit by the then President Barack Obama. The visit to Ghana by Kamala Harris is auspicious coming at a time when both sides of the hemisphere need each other most in the midst of heightened shenanigans of global geopolitics.
The world powers are busy seeking friends and deepening the already existing camaraderie as cheque diplomacy is rearing its head as the newfound policy of some powers, the bill fitting China.
While we are principled in our foreign policy and stick out with our friends, we would restate our preference for mutual trust and sincerity.
Diplomacy is moving at a fast pace and the US cannot be sitting in Washington not caring about recalibrating its relationship with its old friends. Not when China is aggressively and crudely doing so at this time.
Mali recently asked France, their colonial masters, to leave as they make friends with Russia, which country's flag the citizens of the Francophone country were waving recently rather ignorantly having been fed with tales of milk and honey from Russia.
There are a lot of investment opportunities in Ghana and even as we wait for international actors to come and invest here, we can only ask that when they do they should not be selfish in the pursuance of their goals, ours too being of significance to us.
We recall the African Growth Opportunities Act which gave African countries preferential treatment for certain products from the continent in the US.
It would be appropriate to determine how much the Act benefited us in Ghana or not.
Today we have discovered lithium, a critical component of the electric car battery, in commercial quantities in the country and of course requiring serious investors who would not only invest here but add value to the mined stuff.
Blocks of iron ore deposits from our large deposits of the natural resource are available for the consideration of American investors.
A paradigm shift from the previous order of exploration should form the basis of all investments in especially the area of natural resource. Value addition of products before they are exported would be in our best interest so employment can be created and technology transfer ensured.
Ghana's digitisation project is ongoing with Vice President Mahamudu Bawumia on the driving seat. This is an area in which the American comparative advantage would inure to our interest. It is our expectation that this segment would be highlighted during the discourse between our President and the first woman of colour to become a Vice President of the US.
A proper and sincere management of this project would serve the purpose of the girls/women empowerment which is on the mind of Ms. Kamala Harris.
We would also ask for special support for our science and technology education, a project which is in its infantile stage and into which government has pumped in so much already.
Let the relationship between Ghana and for that matter Africa and the US be symbiotic, together we all can contribute towards building a world hinged on fair trade and progress.
Read Full Story