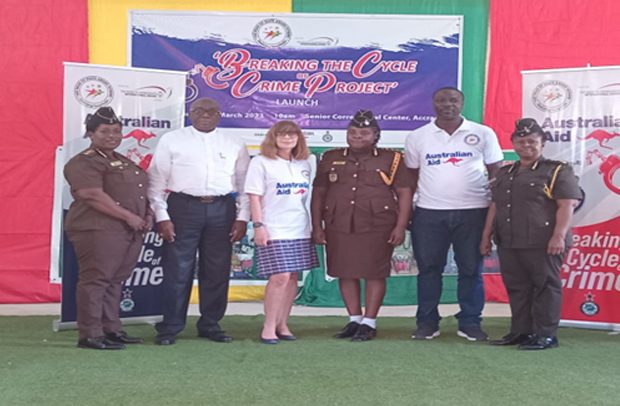 Members of the partner organisations at the launch
The Australian High Commission, through the Australian Aid programme, in partnership with the Head of State Awards (HoSA) and the Ghana Prison Service (GPS) has launched the 'Breaking the Cycle of Crime' project which is aimed at developing the skills set of young offenders thus aiding in their successful reintegration into society after they are released from prison.
The project, which was launched at the Senior Correction Centre, targets young offenders between the ages of 15 to 24 years.
It was also designed to specifically help develop the vocational and employability skills of young offenders, which will help build their confidence and re-establish them back into society, therefore aiding in reducing the return of the freed offenders back into the prisons.
Executive Director at HoSA, Peter Akai Anum, highlighted the need for such interventions as the Ghana Youth Report of 2015 indicates the high rate of young offenders returning to prison after their release due to the difficult circumstances they face when they return to their communities.
"After serving a prison sentence, returning to normal life can be incredibly challenging. This project is intended to help prepare young offenders adequately for life and work while in custody, as well as help rebuild their lives after prison," he stated.
Australian High Commissioner to Ghana, Berenice Owen-Jones, expressed the commission's support for the programme as it aligns with the objectives of their Direct Aid Programme (DAP).
"This project is significant to us because it seeks to bridge the gender gap and empower marginalised young women, building their self-worth and enabling them to demonstrate their potential. This is a critical factor in helping end the cycle of crime and poverty," she stated.
In a speech read on his behalf, the Director General of the Ghana Prisons Service, Isaac Kofi Egyir, expressed his gratitude to the Australian High Commission and HoSA for the project and welcomed more partners to the programme.
By Abigail Atinuke Seyram Adeyemi
Read Full Story