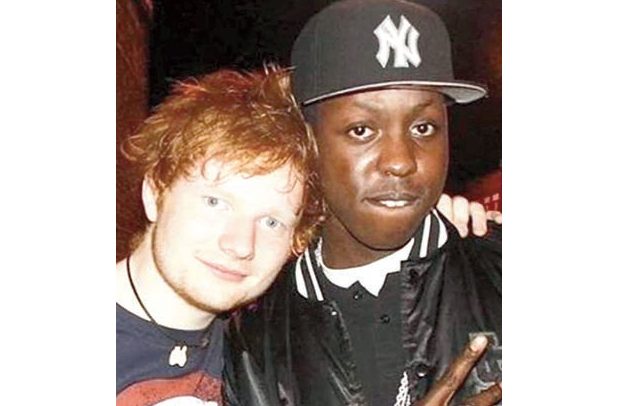 Ed Sheeran and his friend
Ed Sheeran has vowed to never take drugs again, as continuing to do so would be 'disrespectful' to his late friend Jamal Edwards' memory.
Music entrepreneur Edwards tragically died from a cardiac arrest brought on by cocaine and alcohol use in February 2022.
The 31-year-old, who was the son of 'Loose Women' star Brenda Edwards, had been pals with Sheeran since their childhood.
"I would never, ever, ever touch anything again, because that's how Jamal died," said Sheeran, who recently paid tribute to his late pal on the anniversary of his death.
"And that's just disrespectful to his memory to even, like, go near."
The 'Shape Of You' star told Rolling Stone that doing drugs started to feel like "bad vibes", and that he has also cut down his alcohol consumption.
"I was always a drinker," he admitted. "I didn't touch any sort of drug until I was 24.
"I remember just being at a festival and being like, 'Well, if all of my friends do it, it can't be that bad,' and then sort of dabbling.
"And then it just turns into a habit that you do once a week and then once a day and then, like, twice a day and then, like, without booze. It just became bad vibes."
He also credited his wife Cherry Seaborn for helping him quit hard alcohol.
Sheeran, who shares children, Lyra, two and Jupiter, 10 months, with Seaborn, said: "Two months before Lyra was born, Cherry said, 'If my waters break, do you really want someone else to drive me to the hospital?'
"Because I was just drinking a lot. And that's when it clicked. I was like, 'No, actually, I really don't.' And I don't ever want to be p***ed holding my kid. Ever, ever.
"Having a couple of beers is one thing, but having a bottle of vodka is another thing. It's just a realisation of, 'I'm getting into my thirties. Grow up! You've partied, you've had this experience.
"Be happy with that and just be done. I love red wine, and I love beer. I don't know any old rockers that aren't alcoholics or sober, and I didn't want to be either."
The star paid tribute to Edwards earlier this year with a touching freestyle that he filmed at Stamford Bridge, the home of Chelsea FC, which was Edwards' favourite team.
He's also said he wouldn't have become a star without Edward's support.
Read Full Story