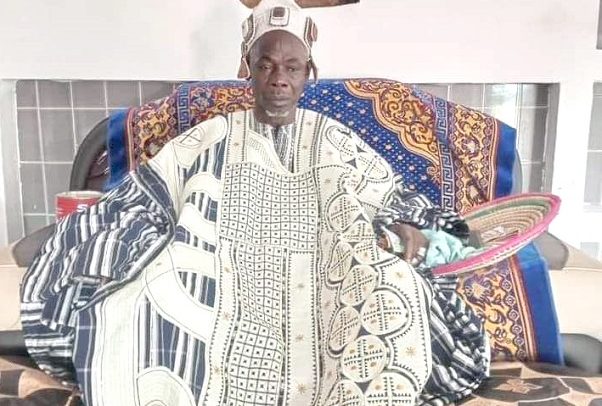 Tuluwewura Soale Mbema Borenyi
The Paramount Chief of the Tuluwe Traditional Area of Gonja, Tuluwewura Soale Mbema Borenyi, has been selected as the next king of the Gonja Kingdom.
This was announced by the Acting Head of State of the Gonja Kingdom, Sonyowura Adamu Kanyiti, at a gathering of kingmakers to select a successor of the late king of the Gonja Kingdom Yagbonwura Tuntumba Boresa I.
The kingmakers of the Yagbon Skin of the Gonja Kingdom Area included Sonyowura (Head of the Kingmakers), Damongowura, Choriwura, Debrewura, Mankpangwura, Kulawwura, Kpansheguwura, Busunuwura and Nsuawura (Chief Linguist of Yagbonwura).
The Tuluwewura Soale Mbema Borenyi was first enskinned as Jakpaseri-wura from where he moved from the Timanklan-wura Skin to Kachinako-wura and finally got to the Bunda Skin in 2011. The Bunda Skin is the entry gate to Tuluwe Skin.
The Tuluwe Skin of Gonja is one of the five divisional skins that ascend the Gonja throne. The Paramount Chiefs of Gonja who were also qualified to ascend to the Gonjaland throne included Wasipewura, Kpembewura, Bolewura, Tuluwewura, and Kusawguwura.
A statement signed by Gonjaland Youth Association welcomed the announcement of the next Yagbonwura and commended the kingmakers under the leadership of Sonyowura Kanyiti I for upholding the culture and tradition of Gonjaland, adding that the selection of the next king demonstrates the strength of the kingdom to ensure peace and development in Gonjaland.
"We the youth of Gonjaland will not relent in our efforts to support the kingdom in all aspects of our tradition and culture. Indeed, Gonjaland is our Kingdom and the kingdom of our Great Founder Sumaila Ndewura Jakpa will reign supreme," they stated.
The Gonjaland Youth Association congratulated Tuluwewura Soale Mbema Borenyi and assured him of their allegiance and support.
The New Patriotic Party (NPP) and the National Democratic Congress (NDC) in the Savannah Region have both congratulated the newly nominated king of the Gonja Kingdom.
FROM Eric Kombat, Damongo
Read Full Story