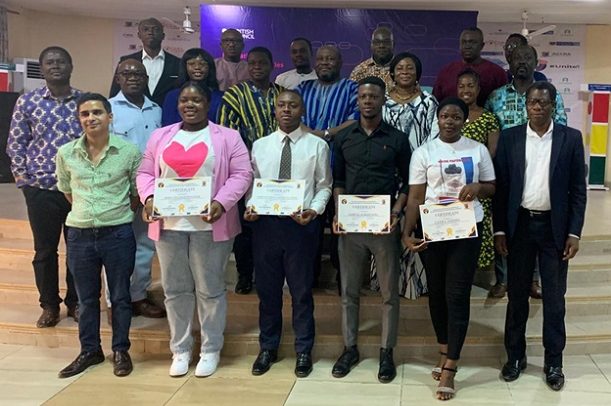 British Council and ATU officials with the beneficiaries
Accra Technical University (ATU) students have had their entrepreneurship skills sharpened through the British Council Innovation for African Universities (IAU) programme.
Through the IAU programme, ATU was awarded a £60,000 grant which enabled the students to collaborate with University of Huddersfield, UK, University of Bolton, UK, Achievers Ghana and Social Enterprise Ghana to develop and deliver various entrepreneurship and innovation-related projects.
The students evaluated the effect of social enterprise orientation on youth employability and investigated ways by which universities can overhaul their programmes and teaching approaches to promote graduate employability within the higher education framework of the country.
At the closing dissemination event in Accra, the students presented solutions which ranged from the expansion of family businesses to the development of an application that links skills to business specific needs.
Vice Chancellor, ATU, Prof. Samuel Nii Odai, said the programme came at the right time indicating that ATU is moving towards developing entrepreneurs.
He expressed his appreciation to the British Council for the initiative and urged the students to use the opportunity to leapfrog into entrepreneurship instead of waiting to be employed after graduating.
"As a university, we have strong plans to build on this, it was part of our plans last year and we are going to build on this and really establish it this year," he said.
Director of Programmes, British Council Innovation for African Universities (IAU) Programme, Solomon Antumwini said the youth are Africa's greatest asset if properly harnessed to support increased productivity and stronger, more inclusive economic growth across the continent.
He said the British Council developed and designed the IAU project as part of the Going Global Partnerships programme, to foster the culture of innovation and entrepreneurship within universities and facilitate the development of skills required to build industries, companies, products and services.
"The project is designed to support the development of Africa – UK University Partnerships that build institutional capacity for engagement in entrepreneurship and innovation ecosystems in selected African countries.
The overarching programme objective is to strengthen the capacity of universities and increase their capability to participate and provide meaningful contributions as key players within the entrepreneurship ecosystem," he added.
Latifa Tahiru, who is into organic foods (Locust beans- Dadwdadwa and black eye beans) for sustainability said she has been able to establish her business 'Hajia Papabi' through the programme.
"This was a dream I had some years ago and I was not able to do anything about it. But the program has helped me to develop this dream into a reality," she said.
Ms. Tahiru also thanked the lecturers and mentors for guiding and encouraging her and other beneficiaries throughout the process.
By Jamila Akweley Okertchiri
Read Full Story