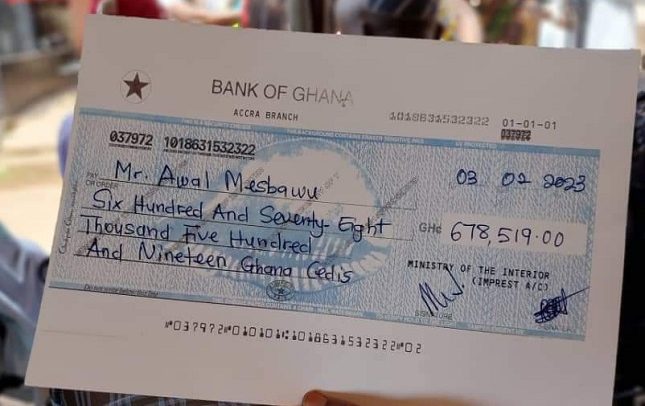 Government has paid GH¢1.28 million compensation to the three injured victims of the Ejura shooting incident.
Per a cheques issued to the families sighted by DGN Online, Louis Ayikpa received GH¢347,953, Nazif Nuhu should got GH¢192,425, and Awal Mesbawu was given GH¢678,519.
This follows legal advice given by the Attorney-General (A-G) in July last year for compensation to be paid.
In a letter, the A-G, Godfred Yeboah Dame, advised the government to compensate three injured victims of the incident with about GH¢1.28 million.
The three injured persons captured in the A-G's advice for compensation are Louis Ayipka, 30; Nazif Nuhu, 20, and Awal Mesbawu, 16.
Apart from the compensation, the A-G also advised the government to implement a recommendation by a Medical Board for the victims to be given medical and psychosocial care.
The letter, dated July 12, 2022 was addressed to the Minister of the Interior, Ambrose Dery.
On June 29, 2021, Abdul Nasir Yussif and Murtala Suraj Mohammed died from gunshots from joint police and military team during activities related to the burial of a social activist in the area, Ibrahim Muhammed, popularly known as Kaaka.
Three other persons — Ayikpa, Nuhu and Mesbawu — got injured in the incident.
A committee set up by the Minister for the Interior to investigate the matter submitted its report in September last year.
The committee, chaired by then a Justice of the Court of Appeal, Justice Kingsley Koomson, in its report, recommended that the families of the two young men who lost their lives in the shooting incident must be compensated.
It further recommended that the three injured persons must also be compensated.
While the government had since compensated the families of the two young men who lost their lives in the shooting incident, the injured persons were yet to be compensated.
The A-G relied on certain factors used to award compensation in some case law.
These were permanent physical disability or impairment, disruption of education, pain and suffering, loss of enjoyment of life, ongoing medical care needs, loss of future earnings, reimbursement of the cost of medical treatments, increase in living expenses among others. The A-G also factored in the national minimum wage and transportation cost, among other factors.
Regarding the medical and psychosocial care, the A-G advised that all three should be given psychosocial support as recommended by the medical board.
"In the case of Awal Mesbawu, the appropriate functional prosthesis should be provided to him to assist in mobilisation as recommended by the medical board," the A-G said.
By Vincent Kubi
Read Full Story