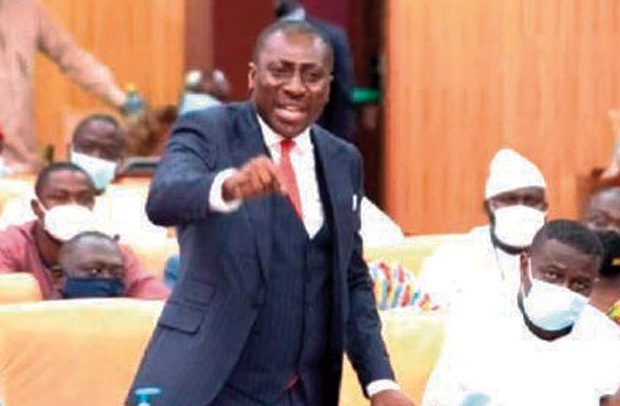 Alexander Afenyo-Markin
Member of Parliament for Effutu, Alexander Afenyo-Markin, has called for "more effort" on Hepatitis B education in order to disabuse the minds Ghanaians who frequently rely on traditional and herbal treatments to combat the disease.
According to the NPP lawmaker, who is also the Deputy Majority Leader, there is still time to raise awareness about the deadly Hepatitis B virus, and patients with the disease should be given free medication.
"HIV patients get antiretroviral drugs free of charge. Unfortunately, Hepatitis B patients who also rely on this same medication have to die, and are not given free drugs," he said while making a statement on the floor of Parliament yesterday.
"If we do this, it will reduce morbidity and mortality in our country to the barest minimum with the strong focus on vulnerable groups within our rural areas," he argued.
"I hereby also make a call on us as MPs to cooperate with institutions, our chiefs, our opinion and religious leaders and other stakeholders to actively engage in public education to create more awareness which will lead to voluntary testing, with those who test negative quickly taking the vaccine which is very cheap and will not cost more than GH¢100," he added.
For him, once people are vaccinated, they are safe from getting the infection, noting, "I will urge the government to intensify public education through radio, TV and print media about the causes of Hepatitis B, mode of transmission."
Minister of Health, Kwaku Agyeman-Manu noted that research indicates that Hepatitis B is more prevalent in the northern zone of the country than the southern zone, and that KCCR in Kumasi was conducting research to determine the underlying factors that are causing the situation to deteriorate in order to find a solution.
Despite the fact that the government does not pay for testing, he said the Health Ministry has made it mandatory for students, food vendors, and people who interact with the public to be vaccinated in order to protect themselves from the disease.
"We are keeping data of those who test positive for Hepatitis B so that we can track their progress and see how best we can support them to manage the disease that they have got," he intimated.
"From scientific research, we have been told that Hepatitis B has no cure and, therefore, if you contract it you would have a challenge. We have to manage you like we have been managing other chronic diseases that have no cure. The only preventive measure is the vaccination, and therefore we need to scale up on testing," he said.
The minister revealed that his outfit had launched a programme that required pregnant women to be tested to ensure that the children they would bear were not infected.
NDC MP for Korley Klottey, Dr. Zenator Rawlings said despite the increasing number of Hepatitis B patients, the country is not having enough awareness creation.
"And at a time like this, collaboration between National Commission on Civic Education and the Ghana Health Service and perhaps the Ghana Education Service will be of benefit because we have a youthful population and a lot of the Hepatitis B positive persons fall within the youthful demography," she said.
By Ernest Kofi Adu, Parliament House
Read Full Story