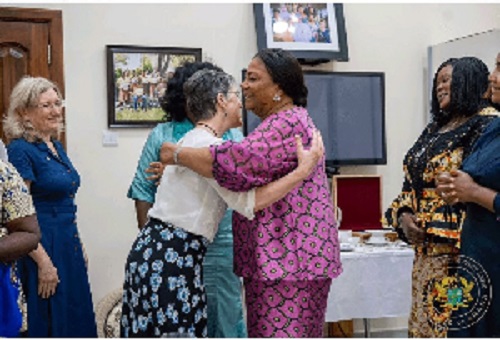 The wife of the Archbishop of Canterbury, Mrs. Caroline Welby and her entourage on Monday paid a courtesy call on the First Lady, Mrs. Rebecca Akufo-Addo, upon her visit to Ghana.
Addressing the gathering about the purpose of the visit, Mrs. Welby said, she has heard so much about the wonderful works the First Lady and her foundation are doing towards supporting women and children, hence the engagement.
According to her, she understands the challenges the Rebecca Foundation is facing, but urged her to keep using her position to impact lives positively.
"I am very grateful to be here and I must confirm that, I have really enjoyed my stay here in Ghana. I hope to come back in future. I understand the plight the Rebecca Foundation is going through in line with helping women and children. I wish the First Lady well in all her future endeavours, and I encourage her to keep impacting lives positively," she stressed.
Mrs. Rebecca Akufo-Addo expressed gratitude to Mrs. Caroline Welby for the visit to Ghana and how the presidency and the citizens are grateful about her coming.
She added that, she will continue to support the less privileged, especially women and children, adding that the Rebecca Foundation initiative started in 2017.
"On behalf of the President of Ghana, H.E Nana Akufo-Addo and its citizens, we are extremely glad for your warm visit to our loving country. We hope this visit will strengthen the relationship between Ghana and Canterbury. Once again, we are happy you chose Ghana," she said.
Read Full Story