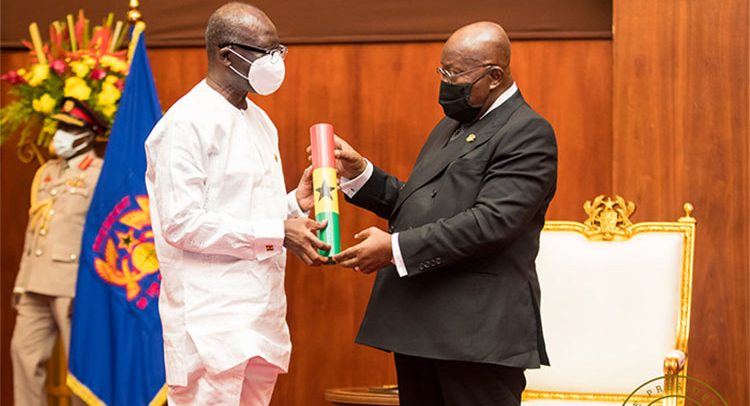 President Nana Addo Dankwa Akufo-Addo swerved Ghanaians who were anticipating the removal of Ken Ofori-Atta as Minister of Finance.
In his latest ministerial reshuffle, President Akufo-Addo failed to touch Ofori-Atta who has come under immense pressure by a section of Ghanaians and his own parliamentarians.
They are asking for the sacking of Ofori-Atta for poor management of the economy.
The signs have been on the wall for long, but no one anticipated that on Tuesday 25 October, about 80 lawmakers out of 137 of the governing New Patriotic Party (NPP) in parliament, would dare the president to let his longest-serving head of treasury take an early leave else they will boycott government business.
"We are by this medium communicating our strong desire that the president change the Minister of Finance… without further delay in order to restore hope in the financial sector, and reverse the downward trend in our economy," the spokesperson of the majority caucus in parliament, Andy Appiah-Kubi, told the media.
Traders have also been protesting spiraling inflation, amidst reports that Ghana's currency is the worst performing in the world.
Government finances are also at their weakest in years. The cost of living is unbearable, coupled with fears that transport fares having going up each time as a result of increases in prices of petroleum products in the country may go up again.
Ofori-Atta has taken the lead in managing Ghana's economy since his appointment in 2017, posting a strong macroeconomic performance with all the indicators such as growth, deficit, and inflation among others moving in the right direction.
However, things took a downward trend with Ghanaians becoming frustrated because they have lost confidence in the government to revive the economy, which has been severely hit by the Covid-19 pandemic and the Russia-Ukraine war in the second term of the Akufo-Addo government.
The Finance Minister's failure to revive the economy had seen the country running to the International Monetary Fund (IMF) for $3 billion bailout.
However, the President in his latest reshuffle on Tuesday February 7, 2023 saw some changes without touching the Finance Minister.
The nominees are Kobina Tahiru Hammond – Minister for Trade and Industry, Bryan Acheampong – Minister for Food and Agriculture, Stephen Asamoah Boateng – Minister for Chieftancy and Religious Affairs and Mohammed Anim Adam – Minister of State in the Finance ministry.
The rest are Osei Bonsu Amoah – Minister of State for Local Government and Decentralisation, Herbert Krapah – Deputy Minister for Energy and Dr Stephen Amoah, Deputy Minister for Trade and Industry.
By Vincent Kubi
Read Full Story