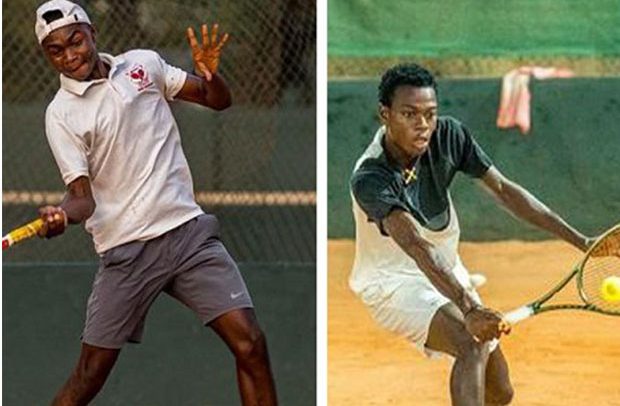 University of Ghana's (UG) Caleb Aryettey and Abubakari Yakubu-Lea have been invited by the Ghana Tennis Federation (GTF) to represent Ghana at the International Tennis Federation (ITF)/Confederation of African Tennis Closed Junior 18 and U-18 Championships – J200 scheduled for February 6 to 11, 2023 in Cairo, Egypt.
The duo, both beneficiaries of the University of Ghana Policy on the Admission of Athlete Students (UG-PAAS) and the University of Ghana Sports Fund (UG-SF), started their training mentorship at the Sports Directorate while in senior high school.
This was made possible through the UG-PAAS policy which identifies talents at the senior high level and in some instances even at the junior high level through a wide network of coordinators spread out in the various regions across the country. Such gems are provided the platform to train at UG with student athletes as a way of developing them to reach their full potential.
Caleb and Lea, both Level 100 students, are reading Bachelor of Arts in Human Resource, Psychology and Information Studies and Diploma in Public Administration respectively.
They indicated to the Sports Directorate media that they will seize the opportunity to make the university and the nation proud while improving their prospects of qualifying for future tournaments on the African continent and other international tournaments.
The coach in charge of tennis at UG Sports Directorate, Mr. Philip Gbedife, stated that the competition will afford Caleb and Lea the platform to hone their tennis skills and the confidence to compete at the highest level. "As a coach, I share in their joy. I am very certain that this competition will give them the platform to further develop their skills and build their confidence at such a level. I have observed their training and I believe they can pass at least the quarter-final stage. The experience they will gain will rub on their teammates here at UG, and that will be a plus for us as a university in the competitions we will participate in this year. The management and staff of the Sports Directorate wish them the very best in the championship."
Read Full Story