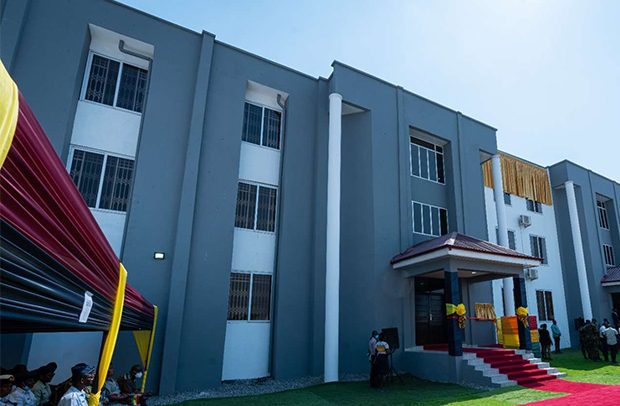 PRESIDENT AKUFO-Addo yesterday commissioned and inspected a number of completed and ongoing projects in and around the military barracks.
He started his day with the commissioning of a 300-bed capacity young soldiers' accommodation at the 37 Military Hospital.
In his welcome address, Brigadier General Awisi, Director of Medical Services of the Ghana Armed Forces (GAF), said the project got stalled when it was 50% complete until somewhere in 2021 when the Joseph Siaw Agyepong and his Jospong Group of Companies decided to help complete it as part of their corporate social responsibility.
According to the Executive Chairman of the Jospong Group, Joseph Siaw Agyepong, the decision to undertake the project resonated with his company's corporate social responsibility considering the role the Armed Forces played in the affairs of the nation.
He, therefore, expressed joy that the project, estimated to cost some GH¢5 million, had been completed to serve its intended purpose.
He reiterated the company's decision to support any project in the country that would positively impact human lives.
Chief of Defence Staff (CDS), Vice Admiral Seth Amoama, took the opportunity to commend President Akufo-Addo for his continuous support to the Armed Forces by way of logistical support and the initiation of various projects, some completed whilst others were still ongoing.
On his part, President Akufo-Addo said these would complement the several ongoing housing projects being undertaken for the officers and men of the Ghana Armed Forces.
He pledged his government's continued support for the Ghana Armed Forces.
The President then left for the Airforce Base at Burma Camp, where he was handed the keys to a 100-bed United Nations (UN) Field Hospital, and subsequently handed it over to the Ghana Armed Forces.
The facility, which used to serve as an isolation and treatment centre for COVID-19 patients during the peak of the pandemic, would now be used to handle emergency cases.
President Akufo-Addo, in his address, expressed gratitude to the United Nations for stepping in to augment government's efforts in boosting healthcare delivery in the country.
He urged the Ghana Armed Forces to manage the facility well, with an assurance of his government's continued support for the Armed Forces.
From there, the President went to Gondar barracks, also in Burma Camp, to present a fleet of vehicles including 70 Kamaz utility vehicles, 20 BTRs, 70 armoured personnel carriers, 20 Husky armoured vehicles, 65 assorted Toyota vehicles and communication gadgets to the Armed Forces.
He also took the opportunity to inspect a bullet and armoured bullion van assemblying plant.
The President later commissioned the new CDS Office Complex Block and ended his day attending the West Africa Soldiers Social Activity (WASSA).
BY Charles Takyi-Boadu
Read Full Story