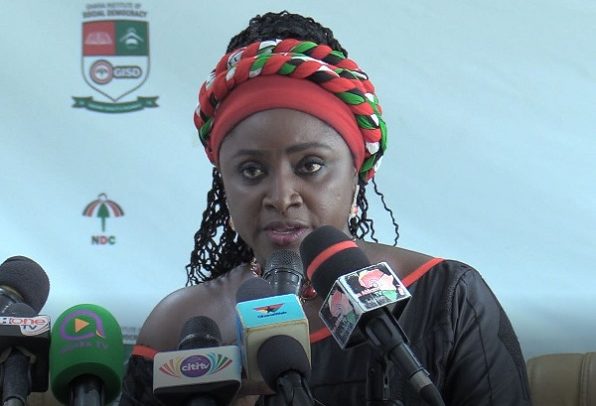 Dr. Hanna Louisa Bissiw
Dr. Hanna Louisa Bissiw, the National Women's Organiser of the National Democratic Congress (NDC) has charged diasporan members of the party to double up their efforts towards the party's victory in 2024.
She said the NDC needs every member of the party on board to wrestle power from the current corrupt New Patriotic Party (NPP) in 2024 to restore the dignity of Ghana in the international community.
Dr. Hanna Bissiw said this at the launch of a fundraising dinner organised by the New Jersey Branch of the NDC at Newark, New Jersey in the United States.
She said the NDC members in the diaspora were very important and recognised as major stakeholders of the party who must foster unity among themselves to make meaningful contributions towards the development of the party and Ghana at large.
The National Women's Organiser urged diasporan members of the NDC to propose suggestions and make decisions that will benefit the NDC, and also defend the party everywhere at all levels both locally and internationally.
She appealed to all members of the NDC to put aside who their personalities are and focus on working hard for the party to wrestle power from the corrupt Akufo-Addo/Bawumia government that has put Ghana in a limbo.
"Ghana's economy is now in shambles and it is on daily basis getting worser than before. Ghana has now become a country that when you contribute 'Susu', you lose your money."
Dr. Hanna Bissiw said the NDC was doing all it can to increase its 137 members in Parliament in the coming elections, to dominate the legislature, thereby appealing to diasporan members to adopt and support some constituencies which are handicapped with resources.
"Elections are won at the grassroots level, and so as a party we must support our grassroots base to defend our interest at the polling level where elections are won," she stressed.
She said the New Patriotic Party (NPP) has started making their lofty promises again to Ghanaians, and that the people of Ghana have already made their minds to vote them out of power as the 2020 election promises were still hanging on their necks.
The NDC National Women's Organiser said the NPP in their desperation are trying all means to rig the 2024 elections, and that this would be resisted by the NDC at all angles and levels of the electioneering process.
Mr. Moses Oklu, Vice Chairman of the NDC USA Chapter said the economy of Ghana was in coma, and that it was only diasporans who will be the major contributors to save Ghana's economy.
He emphasised on the need for members to double up their efforts to reflect in the party at the national level to win power, improve on the living conditions of Ghanaians, and promote development.
Read Full Story