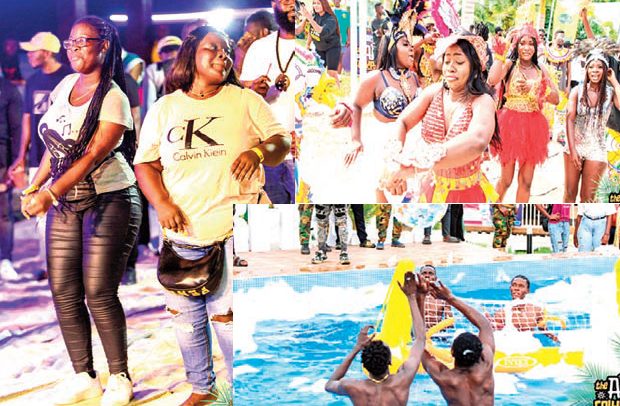 Scenes from the Riverfest
The 2022 maiden edition of the River Festival (Riverfest), an annual event that brings together DJs, artistes, and music lovers across the globe to promote tourism in Ghana had a massive turnout.
The festival which took place in Ada, Camp Tsatse, featured some of the most talented DJs in the industry which include Andy Dosty, DJ Tyice, DJ Theo, and DJ Abizzy.
According to the event organiser, the festivities kicked off with an opening party by DJ Toyor and a saxophone performance by Felix.
There were 100 masqueraders from Takoradi and Tema, with DJ Theo providing the soundtrack. Dance 4 Change performed with DJ Theo providing the music.
The event also provided patrons with boat rides and a jet skiing experience, with DJ Tyice supplying the tunes. In the afternoon, there was a pool party with DJ Theo providing the music.
The event saw fantastic performances from artistes such as Edem, SistaAfia, Epixode, and Strongman Burner.
"Aside from these main artistes, Riverfest also believes in supporting up-and-coming artistes to showcase their talent. The event alsowitnessed live performances from 13 artistes," the organiser,Nana Yaw Manteawsaid.
There was canoe competition with winners winning cash prizes and items from sponsors; NLA, Ebony Condoms and Twellieum Company Ltd.
"Riverfest was an amazing event. With its talented lineup of DJs, amazing activities, and fun atmosphere, it was an event to remember," hesaid.
Nana Yaw Manteaw added, "Our objective for organising the event at the riverside at Ada was to educate and sensitise the people of Ada of the need to preserve the river and its banks and provide safety awareness to users of the river whilst enjoying the environment. We also wanted to drive the December in Ghana traffic outside Accra to another beautiful town in the country. These objectives were highly met."
Read Full Story