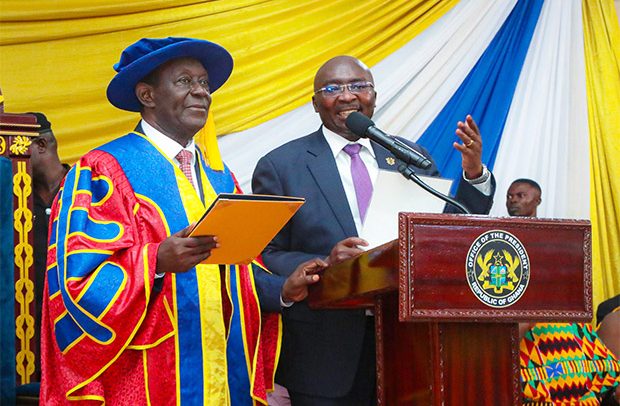 Addo Kufuor being administered the oath of office and secrecy by Vice President Mahamudu Bawumia
Vice President Mahamudu Bawumia last Friday gave a poignant testimonial for former Defence Minister Dr. Kwame Addo Kufuor during the latter's investiture as the first Chancellor of the Kumasi Technical University (KsTU) when he described him as a man of integrity.
"For me, today is a little emotional, because I personally know Dr. Kwame Addo Kufuor. We all know him as a brilliant mind, high academic achiever, high professional achiever, a statesman, a family man, a God-fearing man. But for me, there is one thing that crowns all of these defining characteristics of this eminent personality: Dr. Kwame Addo Kufuor is a man of integrity, and therefore is a mentor for all of us in public service… and so for Kumasi Technical University to choose him as your Chancellor, you have virtually won the lottery. You can be assured of stellar leadership," Dr. Bawumia stated.
Listening to the Vice President pour out the powerful testimonial at the institution's campus in Kumasi were a wide variety of friends, colleagues and family of the new Chancellor, including former President John Agyekum Kufuor; Nana Asafo Boakye Agyemang Bonsu, Asafohene, who represented His Royal Majesty Otumfuo Osei Tutu II, Asantehene; Prof. Aaron Mike Oquaye, former Speaker of Parliament; the Majority Leader, Osei Kyei-Mensah-Bonsu; the Minister for Education, Yaw Osei Adutwum; Most Rev. Dr. Cyril Kobina Ben-Smith, Anglican Archbishop of the Internal Province of Ghana in the Church of the Province of West Africa (CPWA), and Most. Rev. Prof. Daniel Yinka Sarfo, immediate past Archbishop.
"It is a well-deserved honour as all that you have done for mother Ghana in the capacity as the former Board Chairman of Social Security and National Insurance Trust (SSNIT), President of the Ghana Medical Association, Member of Parliament of Manhyia Constituency, Minister of Defence and Acting Minister of Interior establishes that it is entirely appropriate that you have been appointed as the Chancellor of the University," he said.
"Nonetheless, I believe the University could not have picked a worthier leader than you. Your worth of experience, as a Board Chairman of Suame Magazine Industrial Development Organisation (SMIDO) indicates your in-depth knowledge and already established interest in Technical and Vocational Education," Dr. Bawumia noted.
Again, commending the leadership of the Kumasi Technical University for tapping the "results-driven" Dr. Kwame Addo Kufuor as its Chancellor, Vice President Bawumia was confident that the institution's continuous efforts in "building the workforce of the future generation whose work will give full meaning to the words of our country's motto "Freedom and Justice", will bring forth the generation that will build a new Ghanaian civilisation filled with possibilities."
KsTU was established in 1954 as Kumasi Technical Institute (KsTU), which has over the years produced a large pool of technical talent and is recognised as one of Ghana's foremost technical training institutions.
Dr. Kwame Addo Kufuor, in his speech, charged the tertiary institution to link up with industry players such as Suame in Kumasi to impart their wealth of experience on them.
He also asked that when interacting with industry players, they should relate to them in the local language for the necessary impact.
He said that, assuming the position as a Chancellor was akin to that of the Abusuapanin, presiding over formal congregations and ceremonies of the university.
The new Chancellor pledged to provide all the necessary support and assistance the council, faculty and administration require to transform KsTU to one of the topmost institutions for information and communication development and training in Ghana and beyond.
He also pledged to help groom the young university students into world-class talents in order to serve Ghana and raise the image of Africa on the world stage.
Dr. Addo Kufuor suggested for closer collaboration between academia and artisans of Suame in Kumasi, to discuss mechanical problems in the local languages with the aim of finding solutions and enhancing performance.
Apagyahene, Nana Owusu Afriyie IV, who represented the Asantehene as the chairman of the occasion, congratulated Dr. Addo Kufuor for his new position as the Chancellor of KsTU.
Nana Owusu Afriyie, who doubles as the chief of Amakom, was hopeful that KsTU would become one of the top universities in the country under the leadership of Dr. Addo Kufuor.
By David Affum
Read Full Story