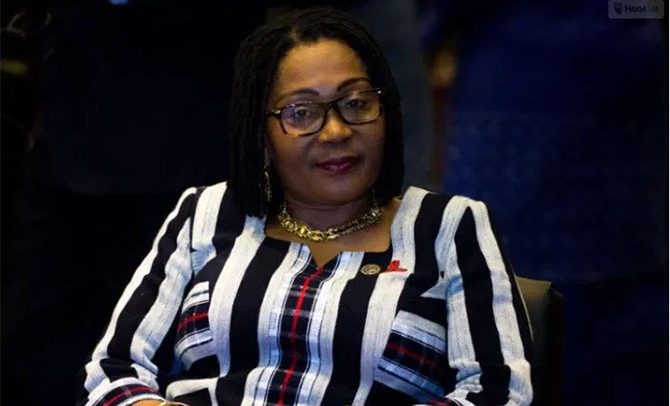 Lordina Mahama
AMIDST THE recent whining by former President John Dramani Mahama that the state has neglected him by not paying his emoluments, his wife, former First Lady, Lordina Mahama, has received two cars, courtesy of the magnanimity of President Akufo-Addo.
The President made available the two brand new vehicles – Toyota Landcruiser V8 and Toyota Camry for the comfort of the former First Lady, all to be fueled by the state.
The cars were delivered to her in August 2021, long before Mr. Mahama's recent rant over his emoluments.
Not only were cars provided for Lordina Mahama, she is also receiving mouth-watering allowances from the President, even though John Mahama has kicked against extending the same largesse to the current First Lady and the Second Lady as contained in the Professor Ntiamoah-Baidu Committee Report for Article 71 office holders.
According to sources, Mrs. Mahama pockets almost GH¢25,000 as monthly allowance.
Contrary to the perception created by the former President, Lordina was equally on salary during his tenure of office, allegedly receiving a monthly allowance of GH¢17,073 in 2013, rising to GH¢22,724 in 2016 before her husband exited from office.
The display of hypocrisy by the former President compelled the immediate past General Secretary of the governing New Patriotic Party (NPP), John Boadu, to ask Mrs. Mahama to return the money paid to her since she is not an elected or appointed public officer as suggested by her husband.
"Let me say this emphatically. Former President Mahama's wife, Lordina Mahama, must, as a matter of urgency, refund all monies paid to her from January 2017 till now. Those she received as far back as 2009 should also be refunded. The monies she has received from that time till now would amount to GH¢3.2 million," John Boadu said in an interview with TV Africa.
The state-sponsored vehicles were also extended to former First Ladies, with Fulera Limann, wife of former President Hilla Limann, allegedly shedding tears of joy, saying that such facilities had never been extended to her since the overthrow of her husband by the Jerry Rawlings' PNDC junta.
Also, she said they now receive invitations to state functions, a gesture Mr. Mahama never extended to them when he was the President.
The former President also took delivery of four cars – two Toyota Landcruiser V8 and two saloon cars – in addition to several Toyota Avalon saloon cars when he was leaving office.
On the issue of paying for his domestic staff, a total of over GH¢70,000 was paid as salaries for his twelve (12) staff in August 2022, excluding police officers who are still providing security for him. The officers are on the payroll of the Ghana Police Service, with the highest pay of GH¢18,837 going to Joyce Bawa Mogtari, his cousin and former deputy minister.
Ms. Mogtari is a Special Assistant on Political Affairs and Aide to the former President.
While Mr. Mahama is crying foul, the state has been paying for his foreign travels which cost the nation over $70,000 annually. These are contrary to claims by the former President that the state has abandoned him.
BY Fortune Kwame Alimi
Read Full Story