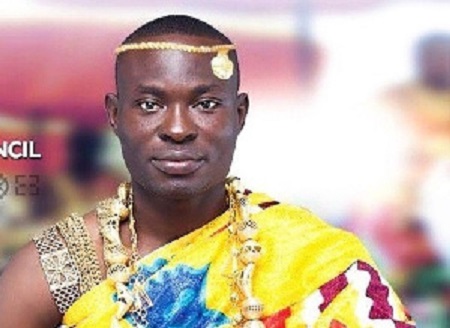 Obrempong Hima Dekyi XIV
A Paramount Chief in the Western Region has suggested to the government to take full control of the management of stool lands in order to help deal with the incessant swindling of innocent citizens in their pursuit to buy land.
Land acquisition in Ghana by private developers is sometimes fraught with lots of indiscipline, leading to fraud, conflicts, frustrations and anxiety.
So as part of measures to help curb the bottlenecks in land acquisition, the Omanhene of Upper Dixcove Traditional Area, Obrempong Hema Dekyi XIV, has suggested that government should take full control of the management of stool lands.
He could not fathom why chiefs are currently involved in the management of stool lands, but there are lots of problems in the acquisition of land by developers.
"I am therefore suggesting that parliament should enact a law that would leave the full management of stool lands in the hands of government.
"So for instance, Lands Commission could demarcate the land for each traditional area and then when private persons need some for development purposes, the Commission would sell the land and later give what is due to the traditional leaders to them.
"I think this will go a long way to prevent chiefs from selling a parcel of land to more than one developer, which brings conflicts," he stated.
Obrempong Hima Dekyi, who was speaking in a radio interview, condemned the lawless acts by some youth in the area sometime ago that breached the relative peace in both Lower and Upper Dixcove.
It would be recalled that some youth suspected to come from Lower Dixcove, wielding clubs and other offensive implements, clashed with the youth from Upper Dixcove about a year ago.
Prior to that, a similar incident occurred at Lower Dixcove during which the Paramount Chief of Lower Dixcove Traditional Area, Nana Kwasi Agyemang IX, was subjected to severe beatings, stripped naked and abducted by the assailants.
Because of the disturbances, it has become impossible for residents in both Upper and Lower Dixcove Traditional Areas to celebrate their annual Kundum festival this year.
He called for quick intervention in the seeming tension which had been centered on a land dispute between the two paramountcies — Upper and Lower Dixcove.
He said the current situation was preventing investors from establishing businesses in the area for the people.
"What is happening is breaking us up. The people of Upper and Lower Dixcove should continue to live in peace," he added.
He advised the youth not to resort to violence as the authorities concerned are trying to resolve the matter.
FROM Emmanuel Opoku, Takoradi
Read Full Story