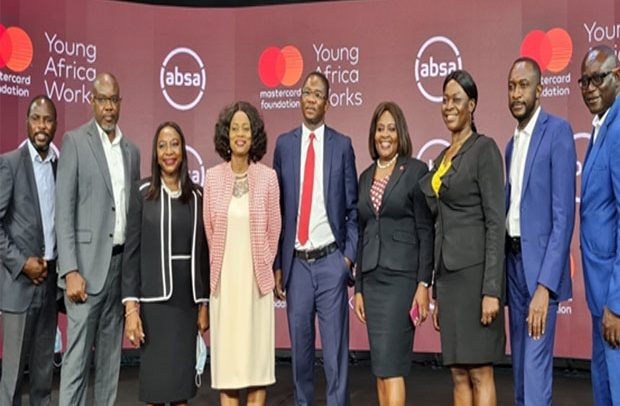 Officials of Absa and Mastercard Foundation
ABSA BANK Ghana and the Mastercard Foundation have announced a joint partnership initiative known as Absa Young Africa Works, aimed at enabling young people, particularly young women, to access dignified work by investing in micro, small, and medium-scale enterprises (MSMEs).
The Absa Young Africa Works initiative seeks to promote financial inclusion among people who are currently marginalised or excluded micro, small or medium-scale entrepreneurs in Ghana, to enable financing to undeserved MSMEs who are otherwise unable to access business financing due to a range of factors, including prevailing macro-economic factors.
The Absa Young Africa Works, will specifically target MSMEs with training, consultancy as well as unsecured loans of up to GH¢500,000.
Launching the initiative, Abena Osei-Poku, Managing Director at Absa Bank Ghana, reiterated the bank's commitment to playing a shaping role in society through enterprise skills development initiatives designed to facilitate job creation and sustainable livelihoods for young people.
She indicated that "formal and informal MSMEs are key actors in every economy and vital in achieving the sustainable development goals, especially SDG-8 which talks about decent work and economic growth."
"At Absa, we believe that MSMEs hold the key to an inclusive and sustainable development of our economy. This underpins our commitment to equip them, as well as our contribution towards ensuring a very equitable post COVID-19 recovery in Ghana. Absa's partnership with Mastercard Foundation is therefore aimed at stimulating the growth of micro, small, and medium enterprises (MSMEs) to create access to 50,000 dignified and fulfilling jobs for young people and women in Ghana," noted Mrs. Osei-Poku.
As part of the partnership, Absa Bank Ghana will also provide entrepreneurial and business sector-specific training. It will also facilitate lending at favourable interest rates to agribusinesses and women-led enterprises to enable them to scale and create access to dignified jobs for thousands of young people in Ghana.
Speaking at the launch, Nathalie Akon Gabala, Regional Director at Mastercard Foundation, noted that Ghana remains one of the most enterprising countries in Africa with young people and women leading start-ups and small businesses.
"These MSMEs, for a decade, have been major players to the economy contributing 70% GDP to Ghana's economy with the sector being the leading provider of employment in the country," said Ms. Gabala.
The Absa Young Africa Works initiative, a five-year partnership, is part of Mastercard Foundation's Young Africa Works strategy in Ghana, and an ambitious 10-year programme to enable 3 million young people, 70% women, to access dignified and fulfilling work.
Read Full Story