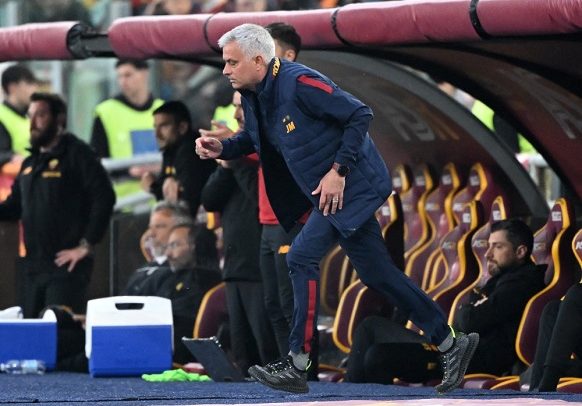 Jose Mourinho
AS Roma manager Jose Mourinho stole a move straight out of the pages of a spy novel when he wore a wire on the touchline during his team's 1-1 draw at Monza in Serie A on Wednesday, which he said was to protect himself from the match officials.
Mourinho, who is no stranger to clashes with referees, tore into Daniele Chiffi after the game, describing the 38-year-old official as "the worst I've ever encountered."
"I'm not stupid, you know," Mourinho told a news conference. "Today, I went to the game with a microphone. I recorded everything. From the moment I left the locker room, to the moment I returned. I protected myself."
Mourinho's precaution was perhaps prompted by the two-match ban he received after being sent off during Roma's 2-1 defeat at Cremonese in late February.
Their latest draw left Roma seventh in the table, just outside the European places with five games left to play, and Mourinho was especially incensed that Chiffi sent off Mehmet Celik after showing him a second yellow card in added time.
"He is the worst referee I have met in my life," Mourinho said. "He is the worst. Technically he's horrible. Zero empathy. Zero communication. Zero awareness.
"A second yellow to a guy who slips in the 96th minute… I stopped working [talking] 20-30 minutes from the end because I knew he would give me a red card for anything.
"I didn't give him the opportunity, I decided no, that's enough."
Read Full Story