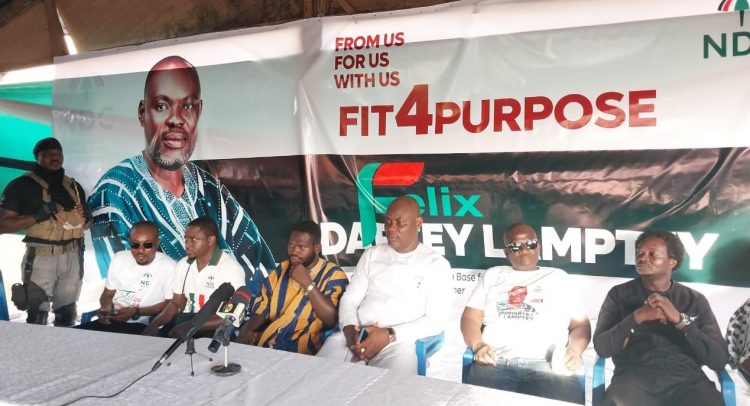 Odartey Lamptey during the campaign launch
Businessman, Felix Odartey Lamptey, has filed his nomination forms to contest for the Weija Gbawe Parliamentary seat on the ticket of the National Democratic Congress (NDC).
Speaking at his campaign launch after filing the nomination forms, Mr. Lamptey asserted that he is the best candidate to win the parliamentary seat for the NDC and has therefore called on delegates to vote for him.
According to him, "The reason for contesting for the parliamentary primaries is to win this seat for the NDC and also ensure that, the NDC continues with the developmental projects we have been offering the people of Weija Gbawe".
He added, "It has been so long that the people of Gbawe have been taken for granted by the NPP and every election year, we go out without winning the seat and Felix Odartey Lamptey is fully prepared for this particular project and this project is for both the NDC and the community."
"The community needs a leader that understands their problems and challenges and I am such a perfect person who understands their challenges, problems, and their concerns because I live with them and do everything ordinary with them and so this time around, I am putting myself up for such a task and I know with God we will complete the task successfully".
"I am beyond a grassroots person; I have my footprints around the constituency. So I am a typical grass root person who is not new to the people. I am the best candidate for the NDC in this constituency," he underscored.
BY Daniel Bampoe
Read Full Story