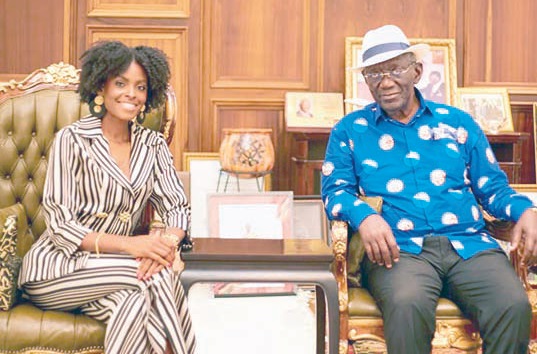 Victoria Michaels, EU Goodwill Ambassador in Ghana, international model and humanitarian, paid a courtesy call on Ex-President John Agyekum Kufuor on Wednesday, February 15, 2023.
The visit was among other objectives to share with the former president her next line of action as European Union (EU) Goodwill Ambassador.
According to Ms. Michaels, she is committed to helping raise public awareness and also promoting EU values and actions among the general Ghanaian public, private organisations, public sector stakeholders and civil society.
She also seized the opportunity to discuss her experiences as a climate change advocate who has continued to use her platforms to push for climate action and her previous role as EU Climate Champion.
Ex-President Kufuor, on his part, congratulated Ms. Michaels on her appointment and expressed confidence that she will continue to help raise public awareness about the EU's ongoing work in Ghana, especially in the area of climate change,  sustainability, circular economy and job creation.
The ex-president advised her to continue to listen to her inner self, pursue her calling with passion, and remain consistent with her values. He went on to acknowledge all the great work she has done so far both as a globally renowned model and entrepreneur.
Ms. Michaels extended her gratitude to Ex-President Kufuor for being so kind to host her and her entourage. She expressed appreciation for his legacies and continuous leadership both to Ghana and Africa as a foremost statesman.
Victoria Michaels was appointed as Goodwill Ambassador by the EU Delegation in Ghana on January  19,  2023,  with a  portfolio of assisting the  EU  in  Ghana to promote and engage the Ghanaian public on various  EU  priorities in  Ghana,  particularly issues of sustainability,  job creation, women/youth empowerment, and entrepreneurship.
Read Full Story