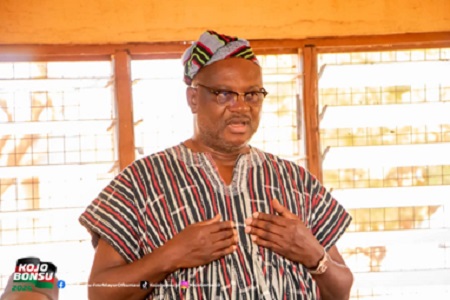 Kojo Bonsu
Former Mayor of Kumasi and aspiring Presidential candidate for the National Democratic Congress (NDC), Kojo Bonsu, has unveiled his 'Sankofa' Project.
Reflecting on the plethora of factories that dotted every region of Ghana at her independence, Mr. Bonsu said it is his primary goal to revamp the factories.
"It is about the resuscitation of the self-reliant policies for Ghana at early independence," the aspiring candidate said.
He noted that cocoa, tomato, and corned beef were among the top-drawer factories operating over the field period in Northern Ghana.
"Textiles, matches and pastries boomed in the Eastern Region, while the Western regions produced car tyres, glass wares and ceramics.
The Central Region boasted of sugar factories whereas the Greater Accra Region, the capital, boomed with textile production lines and electronic assembly plants.
It is time for Ghana to redeploy the youth through district empowerment manifested in relevant employment to develop every region of Ghana in concert with the people," he said.
He stated that without the help of the people, taking great pride in their environment and harnessing all resources, natural and human, no lasting solution can be found to reposition Ghana among the best in the world.
"Therefore, if given the chance, l will prioritize the acquisition of the relevant skills in order to unearth and develop our treasures," he said.
Consequently, he said it is imperative for a shift in emphasis on critical thinking in the formal education of young people in Ghana.
"In addition to secondary school education, l plan on putting a greater emphasis on technical and vocational skills, for an efficient productive and prosperous work force, the engine of the revolution of industrial agriculture.
Thus, we would assume responsibility of our destiny, become self reliant, self sufficient and be able to lead productive lifestyles, fuelled by sustainable means of livelihood.
"That way, we would be able to lay the foundation for a new generation of wealthy and healthy Ghanaians in a buoyant economy to drive Ghana's economy to thrive among the best for the foreseeable future led by the youth of our country," he said.
Read Full Story