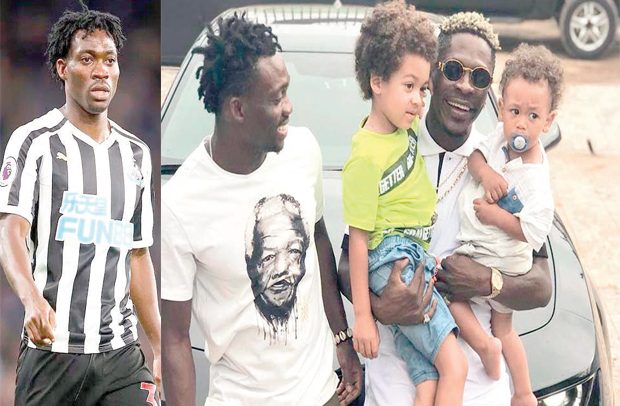 Christian Atsu and kids with Shatta Wale. INSET: Christian Atsu
Ghanaians are still yet to come to terms with the shocking death of ex-Black Stars player, Christian Atsu.
The international soccer star was confirmed dead on Saturday after his body was retrieved from the rubble of the deadly earthquake in Turkey.
The footballer's agent, Nana Sechere, who confirmed his sad demise in a tweet wrote, "It is with the heaviest of hearts that I have to announce to all well-wishers that sadly Christian Atsu's body was recovered this morning. My deepest condolences go to his family and loved ones. I would like to take this opportunity to thank everyone for their prayers and support."
This has thrown the entire country into mourning. A lot of Ghanaians took to their social media platforms to share their condolences.
Among them were celebrities such as D Black, Guru, Cookie Tee, Sarkodie and Shatta Wale.
"Christian Atsu's sad passing is a reminder that we are all human… we will all leave this earth one day. Let's all try to live a life filled with as much positivity & love so that when we leave, whichever way God calls us, we leave impacting the world positively…RIP soldier," D Black wrote.
"RIP Christian Atsu…Condolences to his family," musician Kwesi Arthur also tweeted.
TV presenter Cookie Tee also sought for a peaceful rest for Atsu. She wrote, "RIP Christian Atsu, May God keep your family safe…No amount of words will bring you back, rest in peace in the Heart of the Lord."
"Maybe someday it will all make sense to us. Till we meet again bro," actress Lydia Forson also wrote after sharing her photo with Christian Atsu, while Sarkodie tweeted, "RIP King."
The rest included iOna Reine who wrote, "Though we might not understand because it hurts so bad, yet we will trust in you Lord for we know who you are, Rest Well Christian Atsu, son of the soil, you will be missed."
"We lost one of the good ones! Could have been any of us. Let's pray a day comes when our government can fly a qualified crew to go rescue our own! #ripchristianatsu! May God comfort the family and the entire country," Samini also added.
"Atsu – We are all very sad about your news here in Ghana, but I know God will keep you in the right place for us…we will miss you Christian Atsu …Great friend, Great brother…Rest In Power my brother," Shatta Wale also wrote.
By Francis Addo
Read Full Story