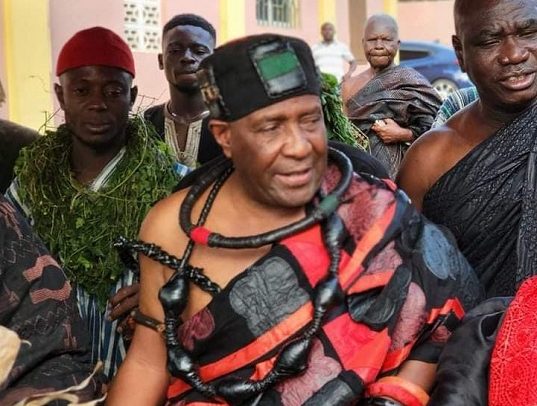 The Ex Benkumhene of Suhum Traditional Area
The Benkumhene of Suhum under the Okyeman Traditional Council in the Eastern Region, Nana Opeabre Awua Asiedu has been destooled by the Paramount Chief of Suhum, Osaberima Ayeh Kofi, for undermining his authority.
The destooled Benkumhene, known in private life as Martin Asiedu, was accused of issuing comments that were found to be disrespectful and undermining the authority of the Paramount Chief.
The said comments were published on social media in September last year.
He was then told to retract his remarks, apologize to the Chief, and pay a fee of lambs and schnapps to clean the stool, but he ignored the directive.
He said that he had sent the things to the Acting Benkumhene of the Okyeman Traditional Council when he was later questioned about why he had been reluctant to take the necessary action.
The customary and traditional process to dethrone the Benkumhene was carried out on Sunday during the Akwasidae ceremony by Osaberima Ayeh Kofi, who was upset by the Benkumhene's behavior.
The Suhumhene claimed that the Benkumhene had shown egregious indifference to him, which is why the petition for his disempowerment was made.
The former Benkumhene was warned not to conduct himself in the region as a subchief.
Similarly for challenging his powers, the Chief of Suhum also destooled his Tufohemea Nana Aba Gyakye last year.
Osabarima Ayeh Kofi, who expressed concern over some of his subchiefs' behaviors, stated that the traditional council cannot cooperate with anyone who does not respect the traditional authorities.
Like they conduct themselves as traditional leaders, Osabarima instructed his followers to show respect.
-BY Daniel Bampoe
Read Full Story