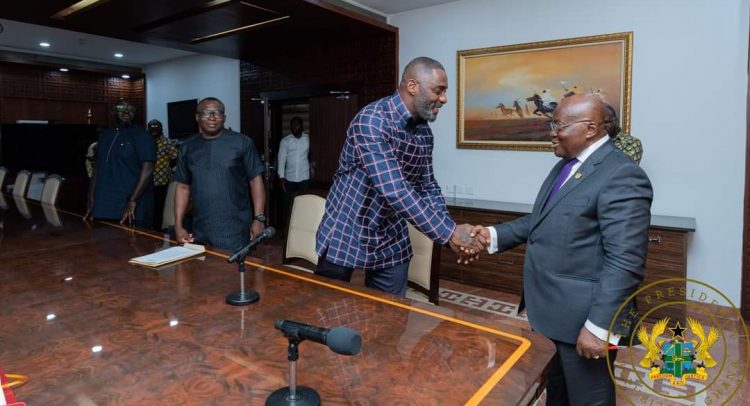 English film actor and globe award winner, Idris Elba OBE, has expressed his readiness to construct a modern film studio in Ghana.
The British actor made this known when on Friday, February 3, 2023, paid a courtesy call on the President, Nana Akufo-Addo at the Jubilee House.
They discussed among other things the importance of film to the land of the birth of his mother, Ghana.
He shared a post on his Facebook page from President Akufo-Addo "On Friday, 3rd February 2023, I received English actor, Idris Elba OBE, to Jubilee House, the seat of the nation's presidency, as part of efforts to promote the "Beyond the Return" initiative. The time has come to engage Africans in the diaspora and all persons of African descent more positively in areas such as trade and investment co-operation, and skills and knowledge development."
Once described as the sexiest man alive, Idris Elba also discussed plans to build a film studio across Africa and also the need for a comprehensive plan to propel Ghana into the forefront as far as movie-making was concerned.
Prior to visiting Ghana, the actor visited Tanzania where he held talks with President Samia Suluhu Hassan.
Since coming to power, President Akufo-Addo has embarked on a series of reforms in foreign policy, business, trade and investment.
President Akufo-Addo also welcomed Christian Lindner, German Minister for Finance, to Jubilee House where discussions centered on strengthening the ties of friendship and co-operation between the two countries.
Immediately afterwards, a delegation from the Ga Traditional Council was also at the seat of the presidency to inform him about the final funeral rites that have been put in place for the late Queenmother of the Ga State.
By Vincent Kubi
Read Full Story