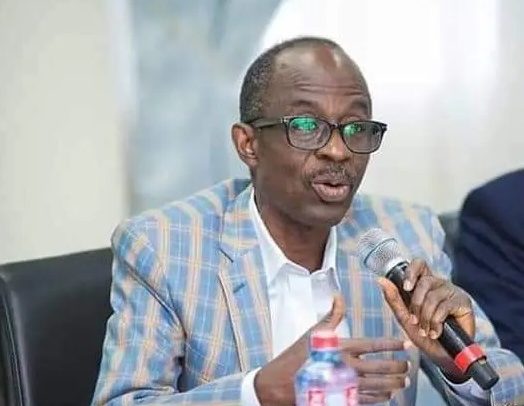 Johnson Asiedu Nketiah
Embattled National Chairman of the opposition National Democratic Congress (NDC) Johnson Asiedu Nketiah has finally revealed why he toppled the leadership of the Minority in Parliament without given reasons.
According to him, the previous leaders of the Minority group in Parliament led by Haruna Iddrisu failed to cooperate with the speaker of Parliament, Alban S.K. Bagbin to make things easy for the NDC in the House hence his decision to remove and replace them with people who can cooperate with the speaker for the benefit of the party.
General Mosquito as he is affectionately called cited example about the difficulties the NDC encounter in electing their own member to be Speaker of the House.
The former General Secretary pointed out that his topmost priority in parliament is to see the NDC cooperating with the speaker against the government which the previous NDC leaders failed to achieve.
"My priorities in Parliament is to see our parliamentary caucus working together and also cooperating with the speaker of Parliament
"He why did we struggle to get an NDC person, elected, as the speaker of Parliament?," Asiedu Nketiah queries?
The NDC National Chairman was addressing party members in the United Kingdom as contained in a video in possession of DGN Online.
He joined former President John Dramani Mahama last Friday January 27, 2023 at Chatham House in London on the topic "Africa's Strategic Priorities and Global Role."
General Mosquito continued that "There are certainly some advantages and those advantages can be tapped into when your leadership is cooperating with the speaker.
"So we cannot have a situation where and other people leadership is cooperating with the speaker and our and NDC leadership have challenges, cooperating, with the speaker. And if you are given a party whose leadership in Parliament is not working together. What would you do?
"You make the changes or you resign.
And I'm not about to resign," he fumes.
NDC is currently in turmoil following the highly opposed reshuffle in the leadership of the Minority in Parliament, largely described as a coup d'état, allegedly orchestrated by the camp of former President John Dramani Mahama, which has ignited some rancor in the party.
Apart from opposition from some party supporters in the Northern and Ashanti regions, with some even massing up at the regional offices, the Minority Caucus is also now divided.
Some 60 NDC MPs had allegedly signed a petition against the decision. They include; Alhassan Suhuyini, MP for Tamale North; Dr. Kwabena Donkor, MP for Pru East; Dr. Dominic Ayine, MP for Bolgatanga East; Sam George, MP for Ningo-Prampram; Alhaji A.B.A Fuseini, MP for Sagnarigu; Samson Ahi, MP for Bodi and Collins Dauda, MP for Asutifi South.
"We are concerned that this critical decision didn't seem to have taken into consideration the unity of purpose and focus our caucus requires to deal with; the Electoral Commission's intentions to introduce a new CI, the government's IMF negotiations and its intended reintroduction of the 'Agyapa deal' before the House.
"We also think this decision would have unintended consequences as we go into our Parliamentary primaries," part of the petition read."
They have further threatened to stand by the old leaders, if their concerns for broader consultations are ignored.
However, reports also indicate that some of the NDC MPs have also endorsed the change in leadership, though no particularly names are out yet.
These have resulted in emergency Caucus meetings over the tension mounting in the party, over the change in leadership.
Meanwhile, previous events leave a narrow gate for one to escape, believing the trio have been ousted to ensure a particular agenda is executed.
Several political observers have noticed the frosty relationship between former President Mahama and the outgoing leader of the minority in parliament, Haruna Iddrisu.
They say it dates back to when late Prof John Evans Atta-Mills was President, and the party was considering a possible ticket after him, and Haruna's name was mentioned as possible running mate, instead of Mahama. Prof Mills was called to glory and Mahama took over because he was then the Vice President.
When Mahama won the 2012 elections, his first list of appointments did not include Haruna Iddrisu, giving weight to rumors that there were some confusion between the two. Haruna had been named in the first list of Prof Mills' ministerial appointments. He was named the Minister for Communications, even as young as he was in 2009.
When Mahama took over in 2013, he removed Haruna from the Communications Ministry.
Following Haruna's removal and not been appointed again, chaos broke out in Tamale, and Mahama was compelled to appoint Haruna as Trade Minister.
Political analysts wondered why Mahama failed to include Haruna, as clever as he is, in his first cabinet, giving that his former boss, even had Haruna in his cabinet.
By Vincent Kubi
Read Full Story