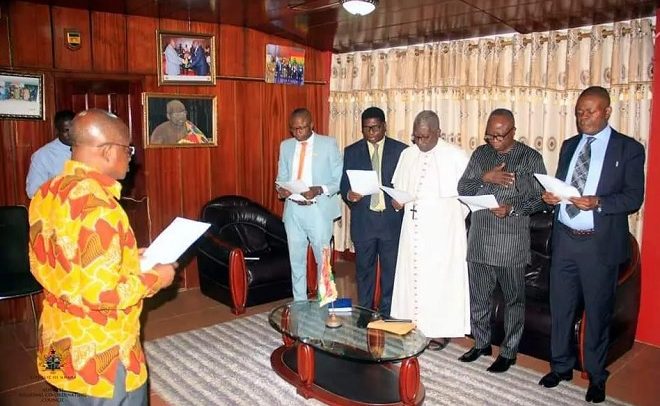 The Ashanti Regional Minister, Simon Osei-Mensah has inaugurated a five-member committee nominated to investigate the disturbances at Krobea Asante Technical and Vocational Institute.
Members of the committee are Justice Samuel Obeng Diawuo, Justice of the Court of Appeal, who will serve as chairman, Rt. Rev. Nuh Ben Abubekr, Retired Methodist Bishop, David Adu-Osei, Retired Regional Commander of NIB, Richard Addo Gyamfi, Acting Ashanti Regional Director, Ghana TVET Service, and Dr. Abeiku Apprey, former Principal, Kumasi Technical Institute.
The Deputy Director-General, Ghana TVET Service, David Prah, a nominated member, has designated Richard Addo Gyamfi, Acting Ashanti Regional Director, Ghana TVET Service, to represent him.
The committee was inaugurated on Wednesday, January 25, 2023 to ascertain the actual causes of the disturbances which generated public interest due to the level of destruction and impunity with which it was done.
The Ashanti Regional Minister reminded the committee members of the disturbances at the school, pointing out that there is no clarity as to the actual causes of the riot as well as the extent and cost of damage, thus the need to set up a committee to investigate the matter.
As a result, Justice Samuel Obeng Diawuo committe is mandated to find the identity of the perpetrators and any other matter they will deem fit among other things.
The committee has been given two weeks to submit its report.
Simon Osei-Mensah expressed confidence in the committee and indicated that the members have been carefully selected from varied relevant background so that they can bring their expertise and experiences to bear in unravelling the matter.
Committee Chairman Justice Obeng Diawuo thanked the regional minister for the confidence reposed in them and promised to do their best in meeting the objectives of the committee.
By Vincent Kubi
Read Full Story