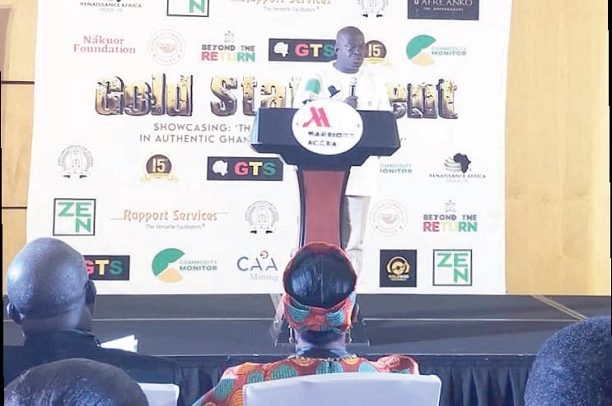 Jonathan Ababio at the 2022 Gold Statement in Accra
PRESIDENT OF the Jewellers Association of Ghana, Jonathan Ababio, has commended President Akufo-Addo for the introduction of the 100 mercury-free gold processing equipment commonly referred to as Gold Katcha to the mining industry.
According to Mr. Ababio, the Gold Katcha, since its introduction into the mining sector, has helped to eliminate the use of mercury in the extraction process.
The equipment extracts gold from the ore without the use of mercury. This equipment can recover over 90% of gold from the ore, and, therefore, gives small-scale miners much more gold than would have been obtained from the traditional method of using mercury.
"With more responsible ways of extraction being enforced by the government and the industry, it is good to note that the gold katcha that has been introduced into the mining sector is helping to eliminate the use of mercury in the extraction processes," he said.
Mr. Ababio, however, lamented the negative impact on the environment by the activities of ill mining known as galamsey. He said it was unethical to turn a blind eye to the toll irresponsible extraction processes exacted on the environment.
"We see on our screens and tabloids the devastation being caused to our environment, particularly our water bodies by illegal mining which has picked up a brown and murky appearance, stretching for miles and now beginning to affect our coastlines" adding, "If we, as jewelers, ignore this, we will pay the price in the long term."
Capacity Building
Mr. Ababio said in order for members of the association to prepare for the eventual release of gold to support the industry, his outfit has instituted two training programmes every year to bring jewelers up to speed with areas such as digital marketing, prudent workshop management and regular updates on production equipment.
"Today, we are in a much better position than we were 5 years ago. We are networking better and building our database and our membership numbers continue to grow," he added.
Chief Executive Officer of Rapport Service, Judy Nakuor Crayem, in her address, indicated that Gold Statement and the Jewellers Association continuously work with other partners to help train jewelers, encourage them to invest in state-of-the-art equipment to stay competitive on both the local and the international market.
"This will encourage the use of local gemstones such as jasper, and rose quartz, among others, as well as train more young ladies, especially in the art of stone cutting and polishing otherwise known as lapidary," she said.
The event was under the chairmanship of Ehunabobrim Nana Prah Agyensam VI, Paramount Chief of Assin Owirenkyi Traditional Area in the Central Region.
BY Prince Fiifi Yorke/ Nafisatu Abdul Razak
Read Full Story