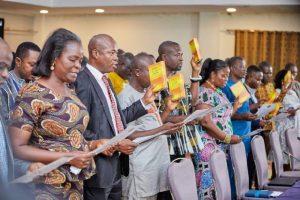 Some of the Senior High Schools and Universities that appeared before the Public Accounts Committee throughout the Public Hearing in the various regions have issues of failing to secure their rightful lands.
However, the Chairman of the Committee, Hon. James Klutse-Avedzi has hinted that the Committee would make recommendations in their final Report to Parliament for Government to clearly indicate its policy on Lands owned by the schools.
Considering the Auditor-General's Report on the Public Accounts of Ghana, Pre-University Educational Institutions for the Financial Year ended 31st December, 2021 it was revealed that most of the schools that have been cited by the Auditor-General for failing to secure their lands are having difficulties in going through the process to acquire their land tittle deeds.
Section 52 of the Public Financial Management Act, 2016 (Act 921) requires the principal spending officers to maintain a register of lands under the control of the institutions they head, which shall contain a record of the details of each parcel of land and the terms on which the land is held with reference to conveyance, address, area, date of acquisition, disposal or major changes in the use, cost, lease terms, maintenance contracts and other pertinent details.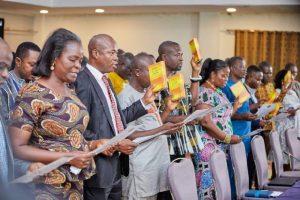 For instance in the Auditor-General's Report covering Pre-Tertiary Education Institutions in the Oti Region, it stated that two institutions namely Bowire Community Senior High Technical School and Bueman SHS had failed to secure title deeds for the school lands which had exposed the schools to encroachment by private developers.
The Report added that the schools risk losing out in the event of litigation or encroachment by other persons or institutions.
Therefore, once the Committee makes the recommendation to Parliament, the Authorities in charge of working on the title deeds will know clearly how to handle lands belonging to schools.
The Committee also considered the Report of the Auditor-General on the Management and Utilisation of District Assemblies Common Fund and Other Statutory Funds for the year ended 31st December, 2021 (Volta Region) and Accounts of District Assemblies (IGF) for the year ended 31st December, 2021 ( Volta Region).
The Committee has now ended its Public Hearing in Ho, Volta Region and it is expected to begin the Zone 4 Hearing which will cover Central and Western Regions on Monday 25th September, 2023.
The post PAC Ends Public Hearing In Ho ….As It Seeks To Know Gov't Clear Policy on Stool Lands appeared first on DailyGuide Network.
Read Full Story