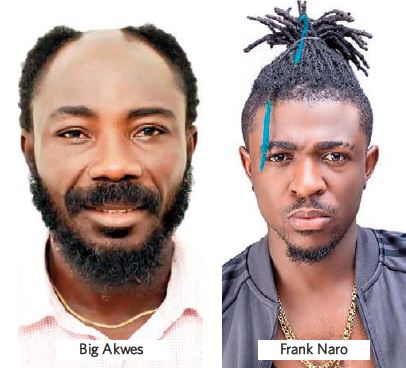 Big Akwes
Kumawood actor, Big Akwes, born Christian AkwasiAsamoah, slapped budding musician cum actor Frank Naro in public at the Kumasi Sports Stadium on Valentine's Dayafter the singer tried exchanging pleasantries with him.
The unfortunate incident was witnessed by many Kumawood actors who were at the stadium to witness the football match organised by Kumawood Stars to mark this year's Valentine's Day celebration.
In a viral video which has since been the topic for discussion on Twitter and generated a lot of public reactions from some sections of Ghanaians, Frank Naro was seen being persuaded by Kumawood actor Wayoosi to exchange pleasantries with the actor as a form of respect, but ended up receiving a dirty slap as Valentine's gift for his public display of disrespect following his alleged "X'mas JujuParty" saga.
"Big Akwes slaps Frank at a football match, someone should tell Big Akwes to stop fooling," a fan tweeted.
"For me, I think what Big Akwes did wasn't right, cuz (because) Frank Naro greeted him cuz he respected him and all the stars around. So why should you slap him??"Sika Biree added.
Big Akwes recently alleged that Frank Naro's end-of-year party held in December was an agenda to use some Kumawood Stars for money rituals.
In the video, Big Akwes alleged that if not for the intervention of his pastor, who called him on phone to expose Frank Naro's evil intentions behind the party, he would have been present at the event and become a victim in the process.
Big Akwes also rained insults on Frank Naro while addressing the issue, amid the allegations on the young star.
He gave a very strict warning to Frank Naro never to call or text him again because he had deleted his number and he should also do the same.
BY Prince Fiifi Yorke 
Read Full Story