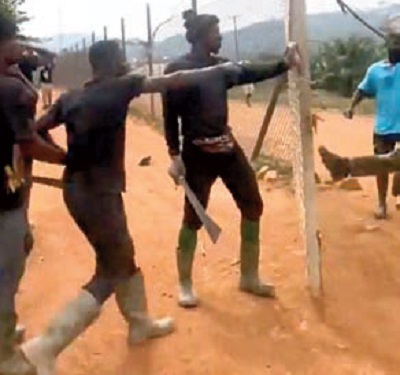 A scene from the clash
DAILY GUIDE has gathered that five persons sustained serious injuries when some residents, mainly youth from the Zongo community in the Bibiani Anhwiaso Bekwai Municipality of the Western North Region, clashed with purported military guards who were on official duty at Asante Gold Corporation in the municipality.
It is unclear what might have caused the nasty incident which occurred at Bibiani Zongo in the Western North Region.
However, according to sources, some residents of the Zongo community went to the premises of Asante Gold Corporation in the area and allegedly picked some materials believed to be gold-bearing ores popularly called 'black'.
It was gathered that when they were leaving the premises, they were ordered by the military to return the materials but the people refused, and took the 'black' to the community.
DAILY GUIDE learnt that the military guards traced the people to their residence and purportedly confronted them in the community, which resulted in a violent clash leading to the injury of the five.
The five victims, who were later sent to the Bibiani Government Hospital for treatment, are all responding to treatment.
Other sources indicated that Asante Gold Corporation Bibiani is planning to resettle residents of Bibiani Zongo and Old Town to a place called Asikyire Nkwanta so the company can take over the Zongo area for their activities.
However, the youth have resisted the move.
The Western North Regional Minister, Richard Ebbah Obeng, therefore visited the resettlement site to meet with the farmers who own the land and other stakeholders to discuss compensation processes.
"But few days after the visit, this unfortunate incident had happened," it was gathered.
The Assembly Member for Bibiani Zongo Electoral Area, Abdallah Adams Mohammed, explained that he heard one of the Zongo residents had been shot.
The Assembly Member alleged that he decided to enquire exactly what happened from the military, but was also subjected to some beatings.
He revealed that one of the victims was in critical condition, supposedly from a gunshot wound.
He said the police from the regional headquarters intervened, which brought relative calm to the area.
FROM Emmanuel Opoku, Takoradi
Read Full Story