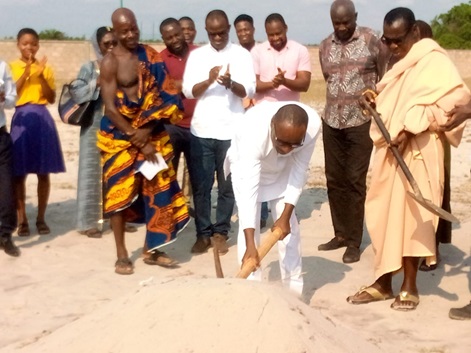 Kwasi Bonzoh cutting the sod for the commencement of the projects
A sod-cutting ceremony has been performed for the construction of three different projects in the Ellembelle District of the Western Region.
The projects are geared towards enhancing the livelihood of the people of Atuabo.
They include a modern 20-seater water closet toilet facility, an Early Childhood Development Centre and a teachers' quarters.
The projects are being financed jointly by Ghana National Gas Company and its partner, Quantum Terminal.
The Senior Manager, Community Relations and Corporate Social Responsibility (CSR) of Ghana Gas, Stephen Donkor, explained that the toilet facility would help end open defecation, particularly along the beaches of Atuabo.
He mentioned that the 20-seater toilet would have hand washing facility and would be completed within six months.
"Our CSR is based on five thematic areas, thus education, health, sports, skills building and then water and sanitation. So, this is one of the areas that we are fulfilling as far as our CSR policy is concerned", he noted.
He said in order for the people to make use of the toilet facility, access would be free of charge.
"It will be made free for people to access it because along the coast we have this problem of people not being able to access toilets, and we want to cure that".
He said the day-to-day maintenance of the place would be the responsibility of his outfit.
"So that when anyone is caught defecating openly they cannot say they do not have a place to attend to nature's call, "he explained.
He said the two other projects–Early Childhood Development Centre and teachers' quarters- are expected to be completed in 10 months.
Mr. Donkor explained that the two projects would also answer to a critical need of the people of Atuabo.
"The Atuabo population keeps increasing because of the gas facility and its associated businesses, and for that matter, it makes sense that we give the people these projects to enhance their livelihoods," he said.
District Chief Executive of Ellembelle, Kwasi Bonzoh noted that the three projects would go a long way to address some of the community's needs and thanked Ghana Gas and Quantum Terminal for the initiative.
FROM Emmanuel Opoku, Atuabo
Read Full Story