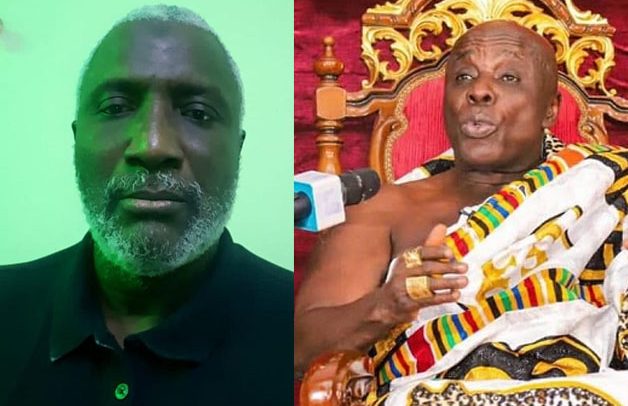 Alhaji Mohammed Abubakar and Okyenhene Osagyefuo Amoatia Ofori Panin
A Saudi-based Ghanaian, Alhaji Mohammed Abubakar, has expressed gratitude to the Okyenhene, Osagyefuo Amoatia Ofori Panin, for his swift intervention in a case involving a land he acquired at Teacher Mantey in the Eastern Region.
In a statement, the now happy man said, "the intervention of the King after I had petitioned him has saved me from the stress and the four acre land which I nearly lost. May God grant the King a long and fruitful tenure on the throne."
It would be recalled that Alhaji Mohammed Abubakar petitioned the Okyenhene over some signatories endorsed by one Nana Baah, popularly known as Haruna for the acquisition of a 4-acre land at Adoagyiri Signboard on the Accra-Kumasi highway in the Eastern Region, which turned out to dodgy.
The victim, through his grand cousin, Abdul-Rahman Dollah on April 11, 2015 presented two unregistered Dodge Caliber vehicles and an amount of GH¢32,000 to Haruna for the acquisition of the said land at Signboard near Teacher Mantey.
According to Alhaji Mohammed Abubakar, his grand cousin also made payment for a site plan in his name and requested a replacement of the parcel of land for farmland.
He explained in the petition that "this request was honoured and he was granted the parcel of land at Teacher Mantey by Nana Baah."
According to him, the process to get the documentation of the land was initiated, adding that after the payment of several sums of money, a site plan and indenture were finally issued to him through his grand cousin.
In the petition, he said the documents were taken to the Koforidua Lands Commission for the registration of the land in his name. At the final stage however, the signature of the Okyenhene on the documents were found to have been faked.
The Okyenhene's response to the petition has led to the formalisation of the land acquisition process which has gladdened the heart of the previously aggrieved Saudi-based Ghanaian.
Read Full Story