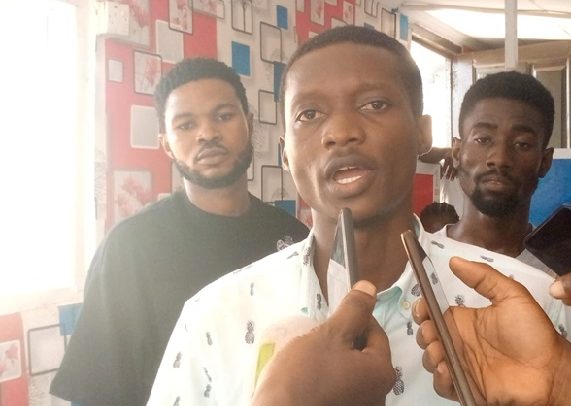 Benjamin Thompson in an interview with journalists
YOUTH OF the New Patriotic Party (NPP) in the Essikado-Ketan Constituency of the Western Region have vented their spleen on one of the aspiring parliamentary candidates of the party.
They explained that the aspiring candidate, Anna Horma Miezah, has made certain pronouncements which were damming and could cause irreparable damage to the party in the area.
They alleged that at a meeting with Electoral Area Coordinators in December last year, and early this year, Ms. Horma Miezah told them that she and other party executives had to manipulate the election process at the collation centres in the constituency in the 2020 parliamentary elections.
"According to Madam Horma Miezah, who is also the Western Regional Treasurer of the NPP, the alleged manipulation rescued the incumbent MP, Joe Ghartey, from electoral defeat in the 2020 general elections," they said.
The youth asserted that the alleged comments by Ms. Miezah, captured on audio, had gone viral on social media.
They pointed out that the assertion by Ms. Horma Miezah was among the issues the opposition National Democratic Congress (NDC) sent to court but withdrew the case when the NDC realised they had it no evidence to back the claims.
Addressing the media at the party's constituency office at Essikado, the spokesperson for the youth, Benjamin Thompson, condemned the alleged pronouncements.
"As members of the party, we are overwhelmed by the allegation, though unfounded. We see it as a deliberate attempt to discredit and disintegrate the party," he asserted.
He added that as a person aspiring to represent the constituency in Parliament, Ms. Horma Miezah owed a duty to be responsible and diligent in her pronouncements.
He said the youth have, therefore, declared their unflinching support for Charles Bissue who has declared his intention to contest the area's next NPP parliamentary primaries.
Charles Bissue is a former Western Regional Secretary of the NPP and a former Presidential Staffer.
"We have petitioned the National Council and Regional Executives of the party to cause Madam Horma Miezah to retract her assertion and render unqualified apology to the sitting MP, Joe Ghartey."
FROM Emmanuel Opoku, Essikado
Read Full Story