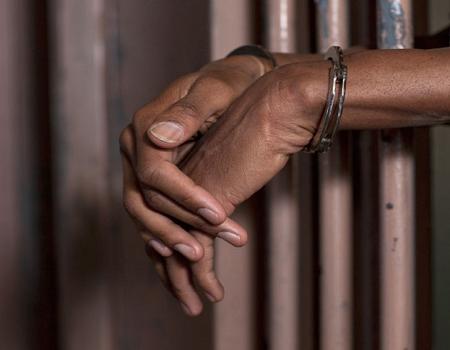 A man has been remanded by a Grade I Area Court in Karu of Nigeria's Abuja State has remanded a 34-year-old mason for having with a married woman.
The suspect, identified as Surajo Hamza will spend the next eight days in a correctional centre before the next hearing day in court.
According to the News Agency of Nigeria (NAN), the trial judge, Umar Mayana, deferred granting the defendant bail and adjourned the case until April 4 for a hearing. He then ordered that the suspect be remanded in Keffi Correctional Centre, pending the completion of an investigation by the police.
Prosecution Counsel, Edwin Ochayi told the court that Hamza entered the shop of one Gloria Joseph, wife of Pius Gwaza of Kuruduma, Asokoro, Abuja and started having sex with her and then her husband caught them red-handed.
Hamza then engaged in a fight with Gwaza, the husband of the woman and injured him and his wife with a sharp object.
READ ALSO: 'Traitors, Judases and Esaus' – Ablakwa blasts NDC MPs who approved Akufo-Addo's ministers
During interrogation, he allegedly confessed to the offence, which the police say contravened the provision of Sections 97, 242 and 387 of the Penal Code.
When he appeared before the court, Hamza pleaded not guilty.
In related news, a Tanzanian landlord was placed in public and flogged mercilessly before being slapped with a heavy fine after he was caught red-handed having sex with his tenant's second wife.
The dramatic incident reportedly occurred at Kibwera village in the Geita district of the country's Geita province.
According to a report by Millard Ayo, Katayo Bote was publicly caned and fined over KSh 11,000.
Emmanuel Ndalawa, Katayo's heartbroken tenant who has two wives, said he realized that his second and younger wife had been getting too close to the landlord since they moved into his house.
Ndalawa who lives in the same house with his two wives said he caught his lover and the Katayo in her room getting intimate.
It is reported that the village chairman Simion Kisinza confirmed the incident, saying it was reported to the leadership of the village and they decided to punish Katayo to serve as a deterrent to others.
Katayo is said to be noted for sleeping with other men's wives and it appears the residents could not tolerate his immoral conduct anymore.
Read Full Story