Crusading Guide: Commonwealth 'journalists' deportation saga: Deputy Sports Minister, NSA suspended :: We're building new Ghana anchored in IT - Veep.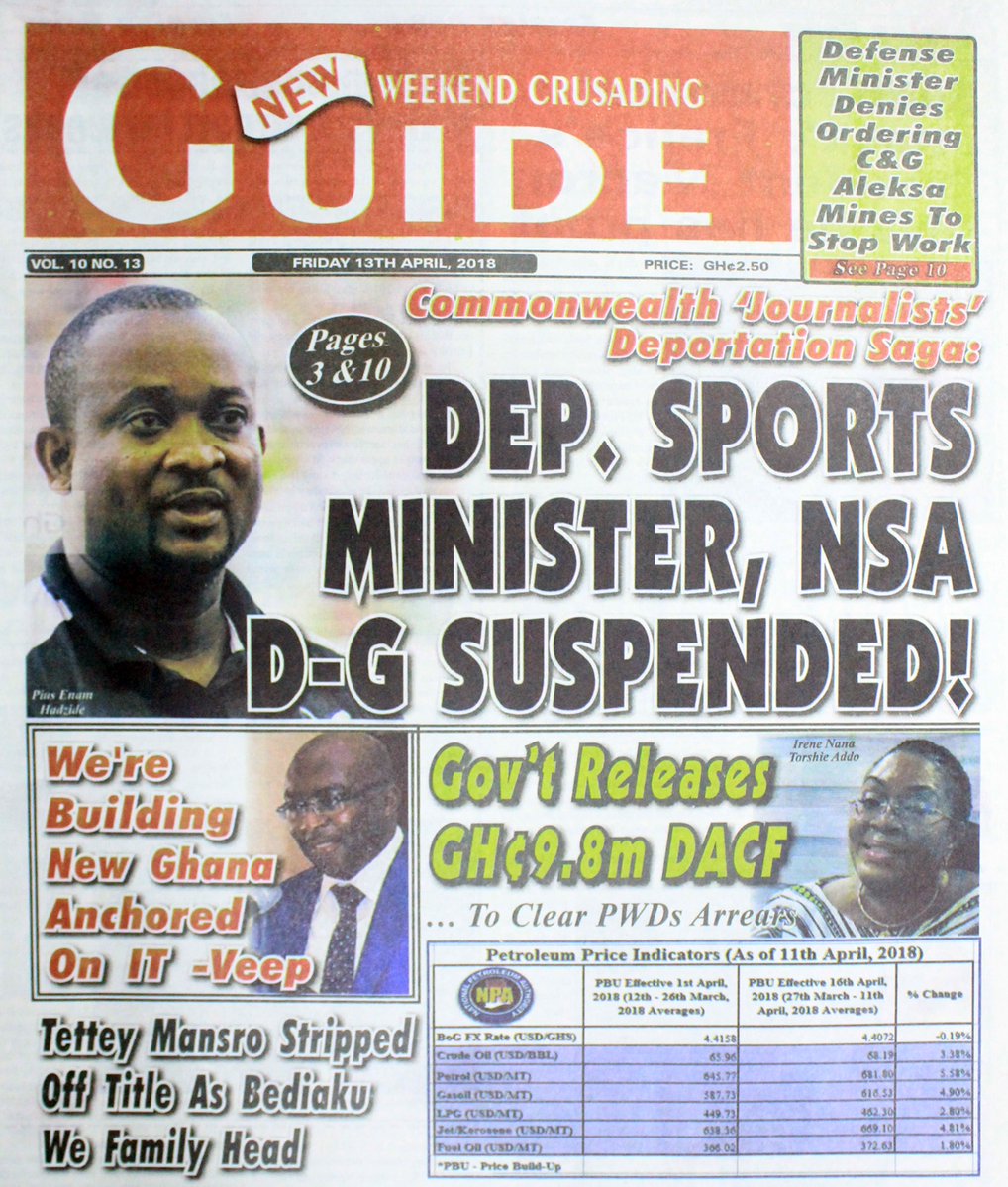 The Mirror: Gang of six busted includes 2 women for robbery :: Woman lives in cage for 13 years.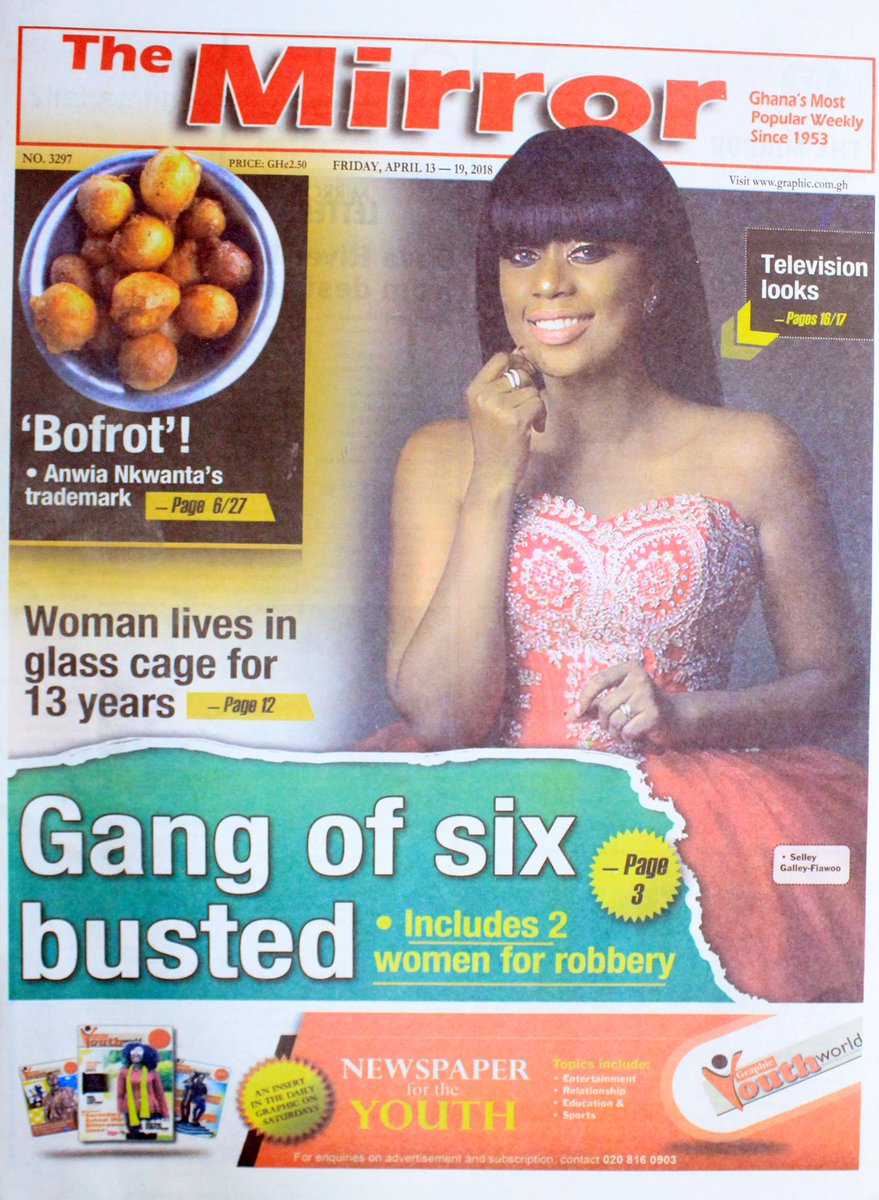 Goldstreet Business: Bank depositors flee to 'safety' :: Importers to produce letters of credit, bank guarantee before using bonded warehouses :: Oil drives economic growth to 8.5% in 2017.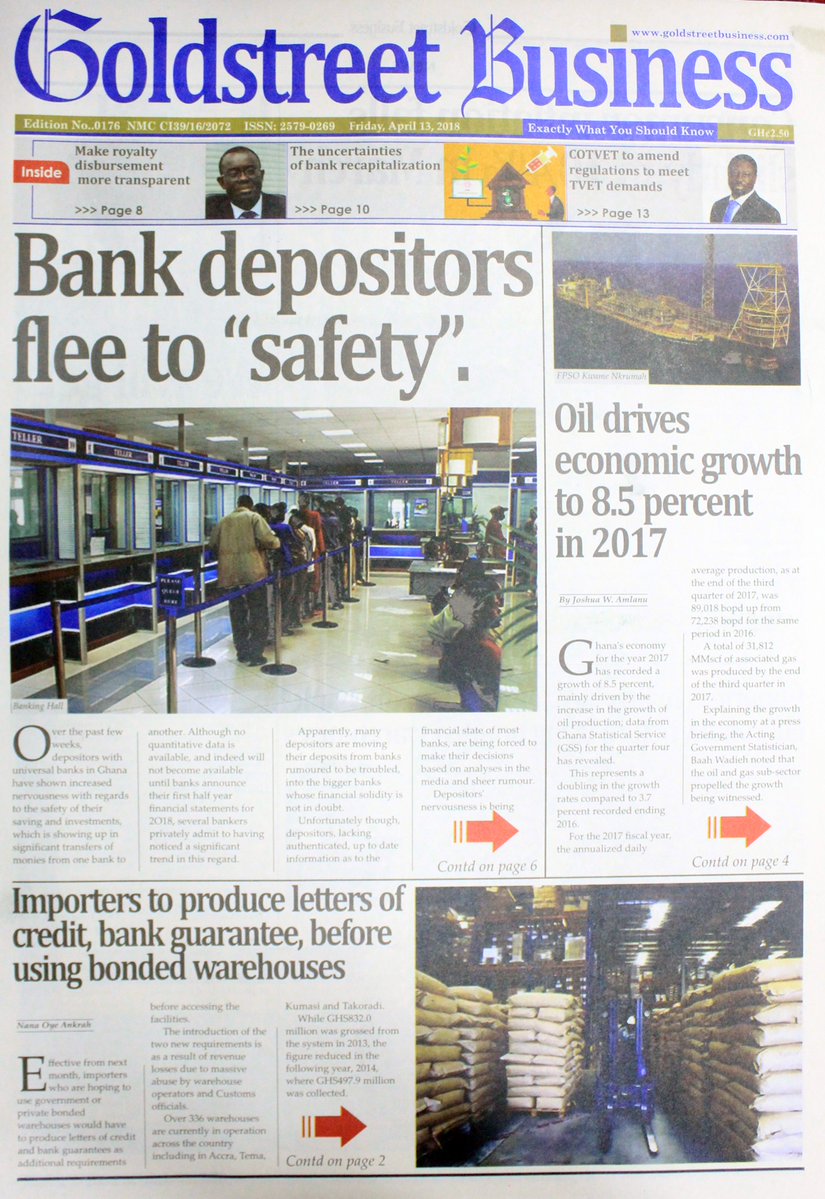 The Independent: @NAkufoAddo lauded for suspending Deputy Sports Minister :: Ghana must abolish death penalty by 2019 - @amnesty.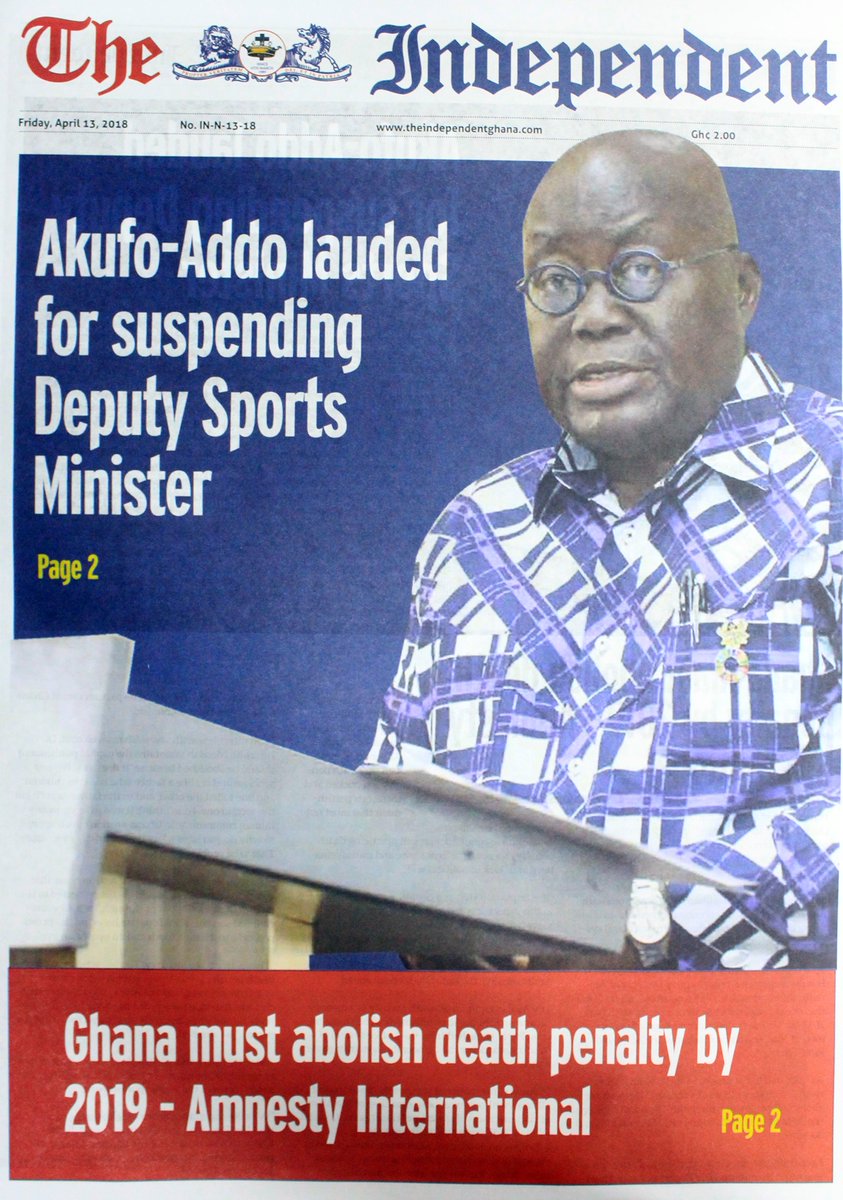 Daily Guide: Minister fired over visa scandal, other officials in hot waters :: CID calls bluff of NDC MPs :: Ex-MASLOC bosses in trouble :: Mahama killers reject jurors.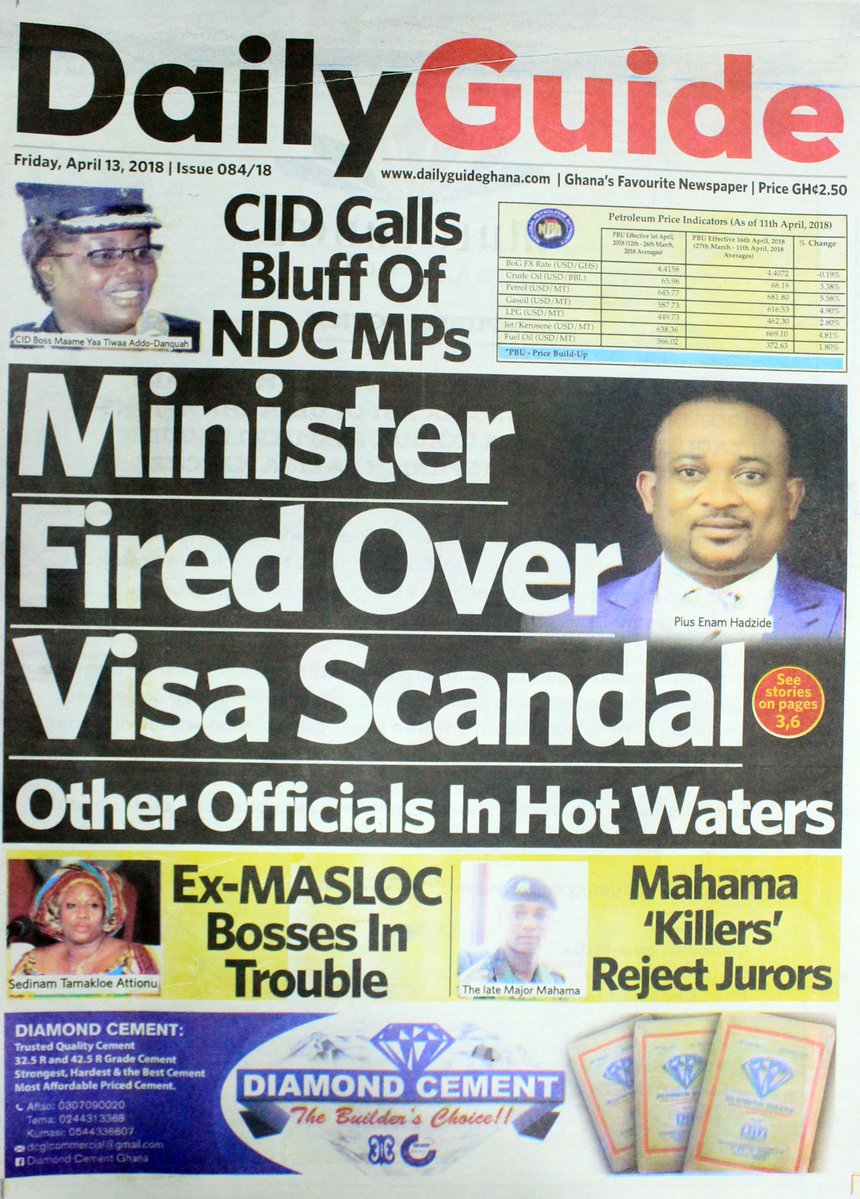 Daily Statesman: Deputy Sports Minister, NSA boss suspended over Commonwealth Games deportation saga :: NDC angry with @JDMahama for dividing party with 'unity walk'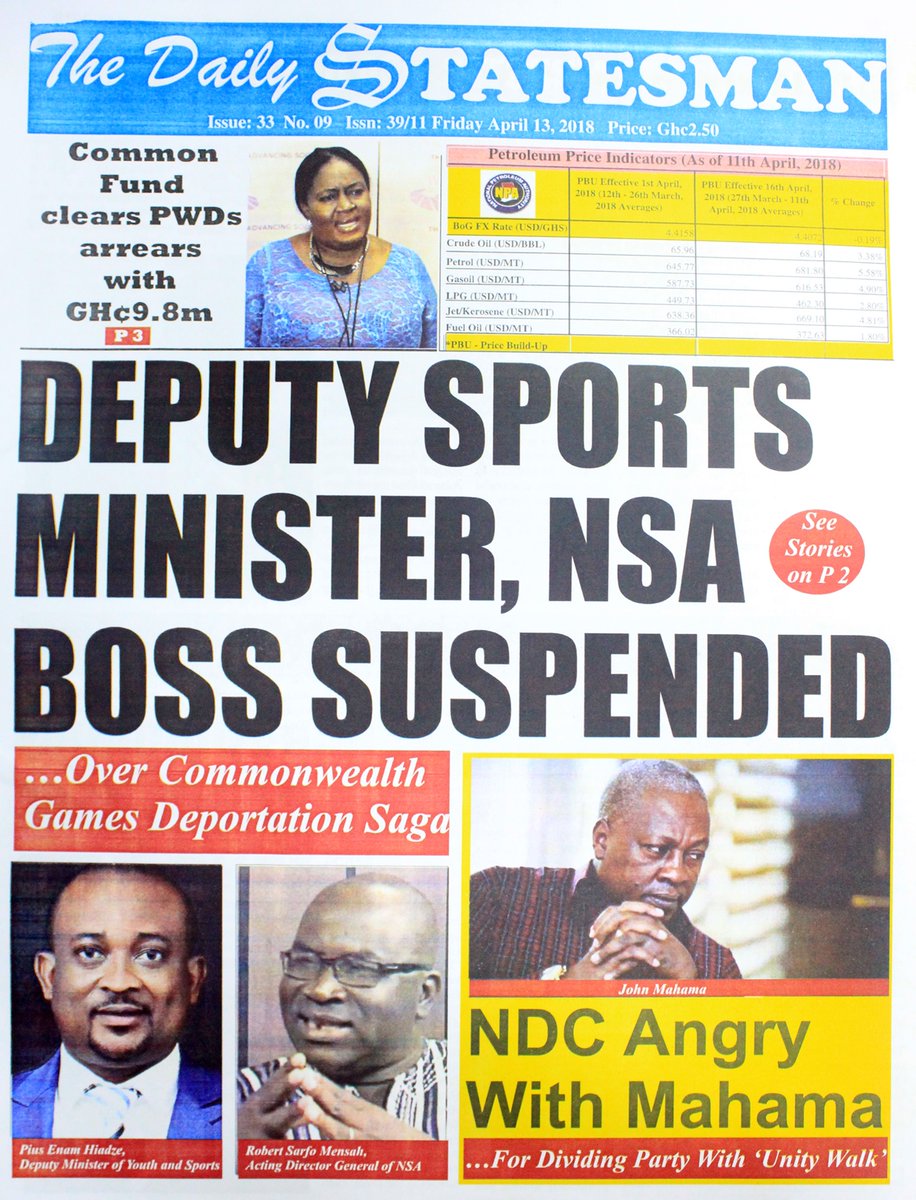 Daily Graphic: Tramadol sold near SHS seized :: Tuna fishing companies halt operations for fear of pirate attacks :: Deputy Sports Minister, NSA boss suspended :: Finance Ministry, JICA to renew bilateral cooperation agreements.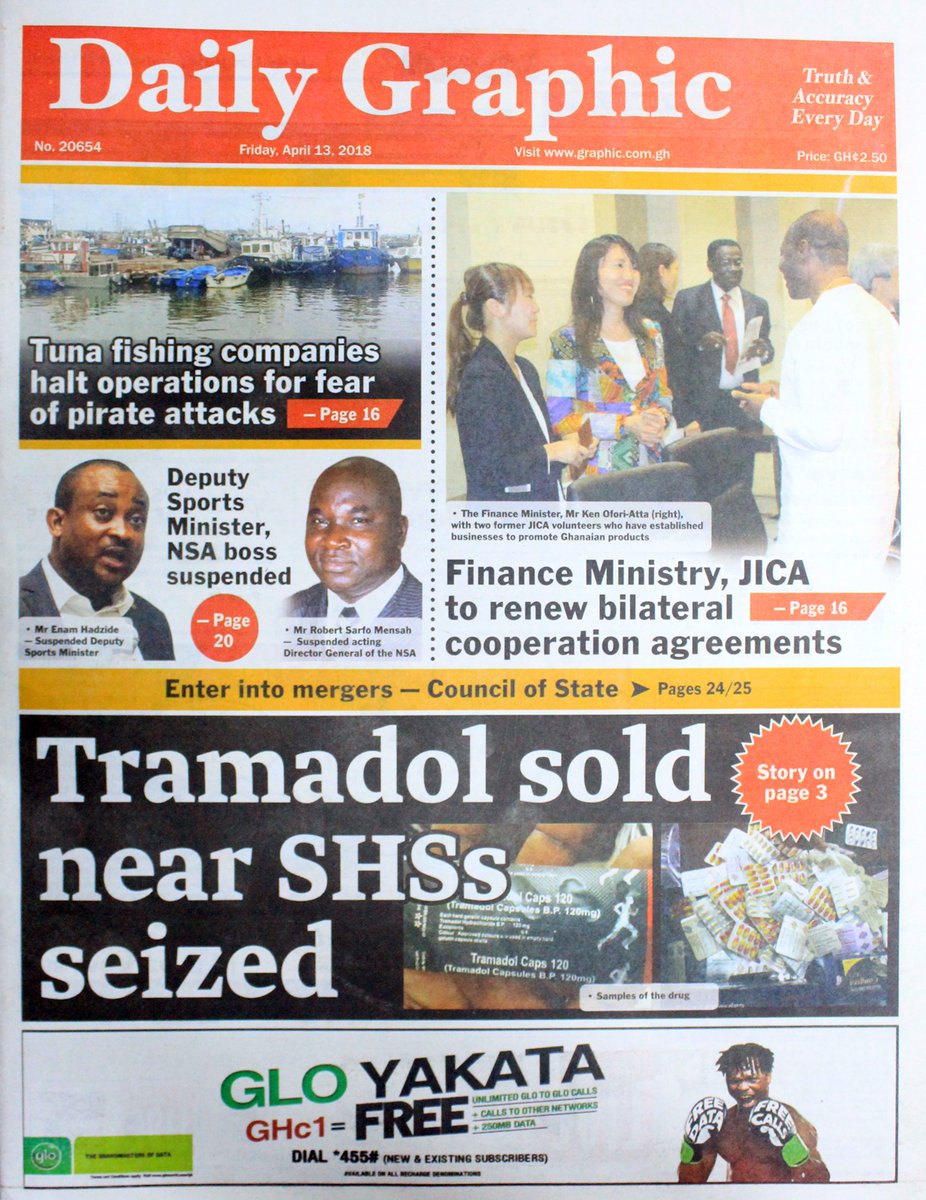 The Herald: More disgrace from Australia: Fake volleyball players and swimmers caught; Family & friends of top GOC officials named :: Minister, Sports Authority boss, others suspended :: Defence Minister denies stopping C&G Aleska Mines from working.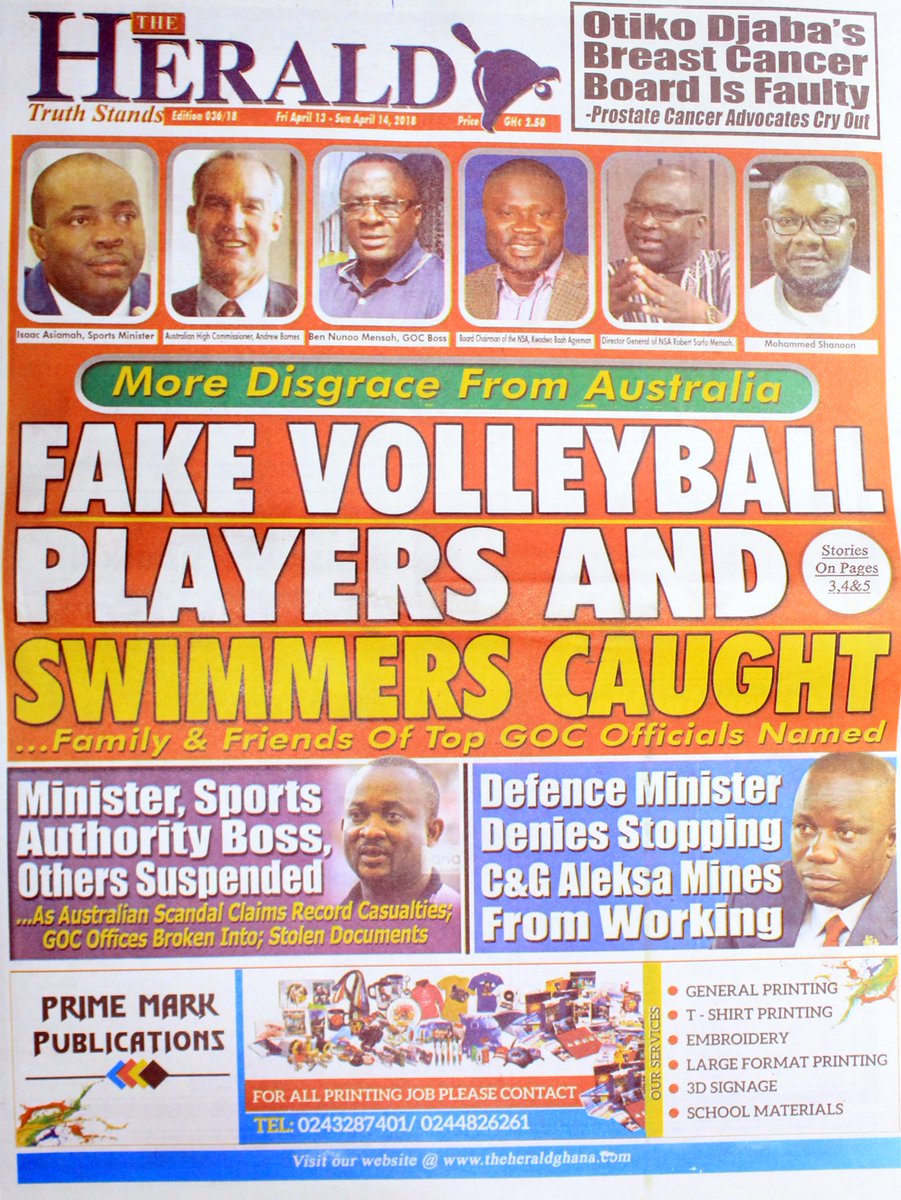 Weekend Today: Soldiers, police strike - terrorise residents at Ningo Sohapa :: Deputy Sports Minister suspended :: @TeePhlowGH tipped to win an award at 2017 VGMA.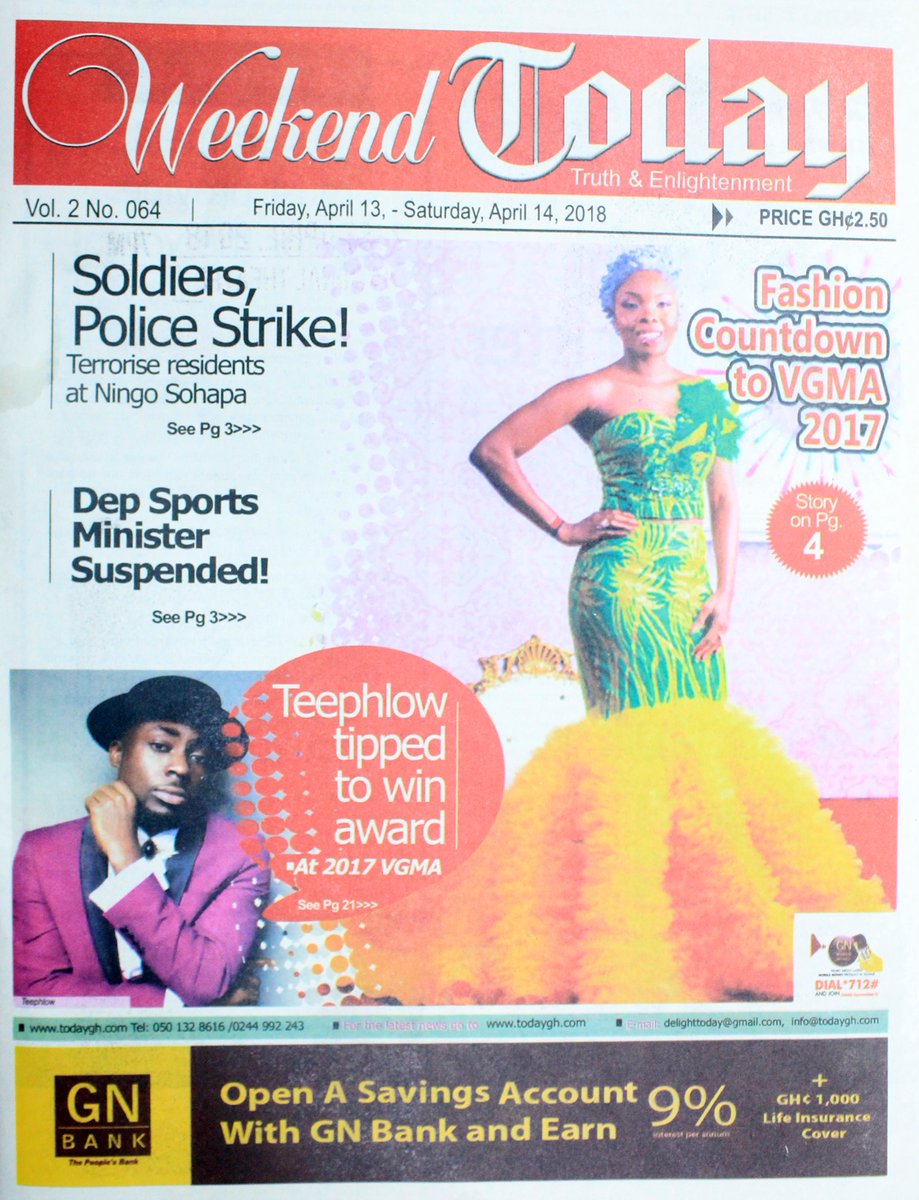 The Publisher: Mahama 'killers' reject jury :: Deputy Sports Minister suspended :: IGP meets Otumfuo at Manhyia :: Kumasi mayor loses dad.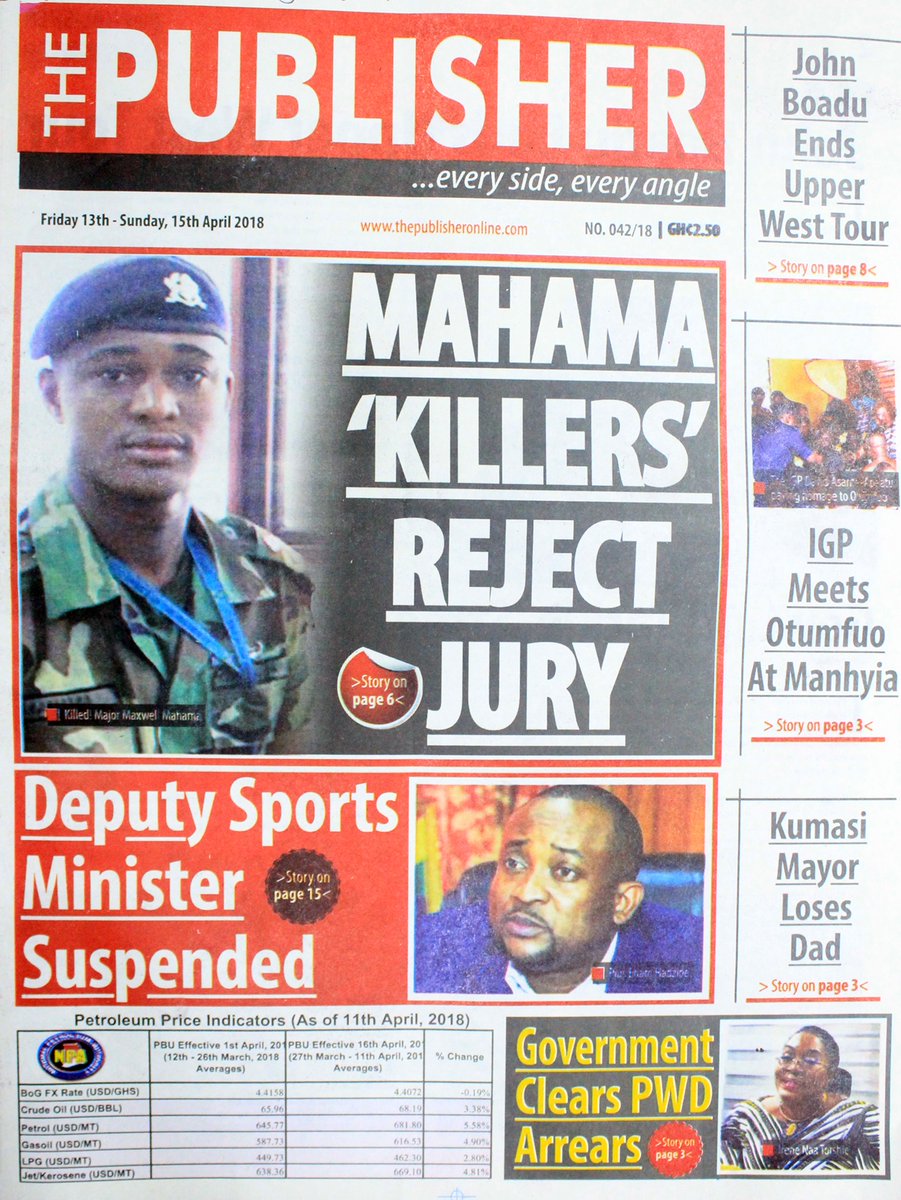 The Chronicle: No-nonsense Akufo-Addo strikes; stylish Hadzide 'booted' as CID delves deeper into Commonwealth Games scandal :: Court of Appeal orders Legon to pay ex-gratia to former employees.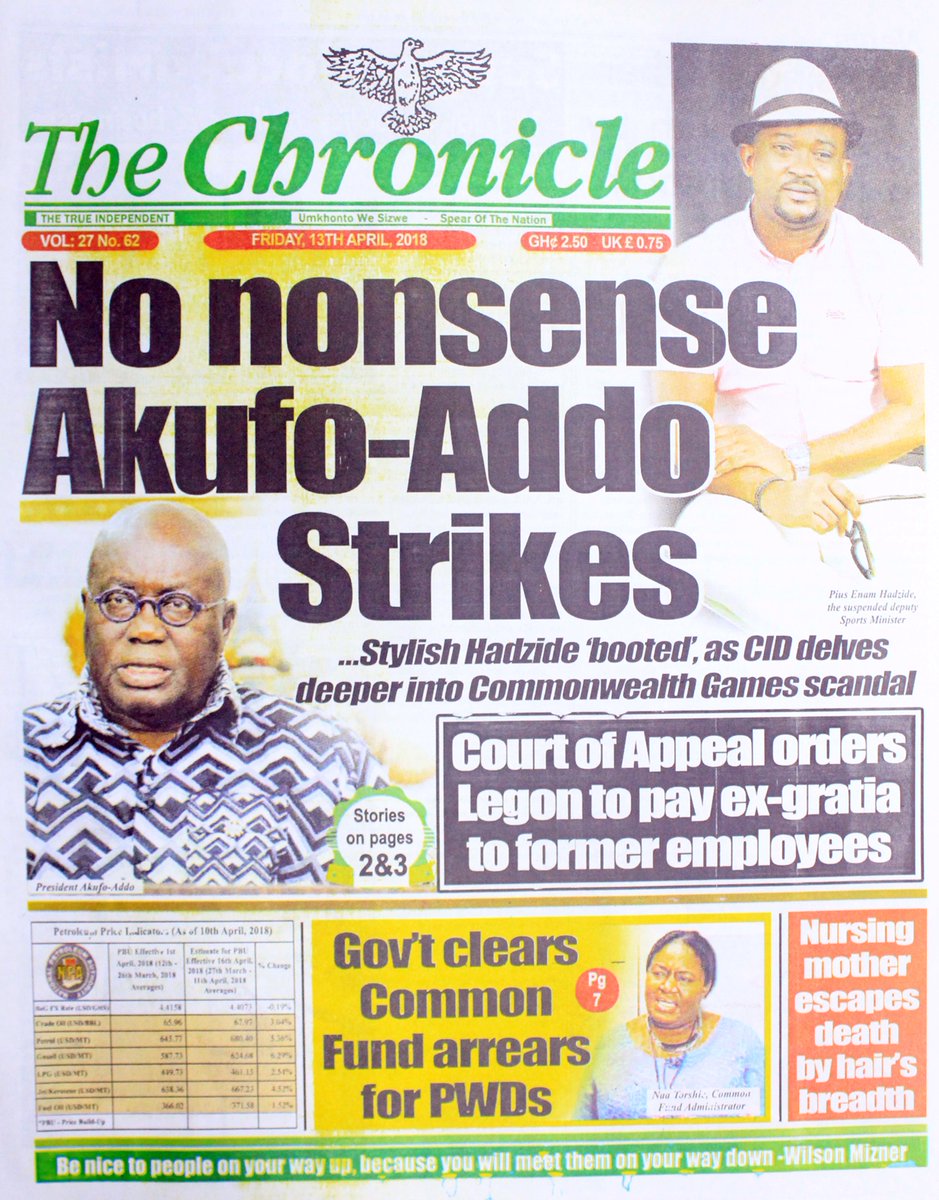 Ghanaian Times: Commonwealth visa scandal: Deputy Minister, acting D-G NSA suspended, 3 top officials recalled :: Eastern Railway rehab project commences :: Veep meets ICT experts at Silicon Valley.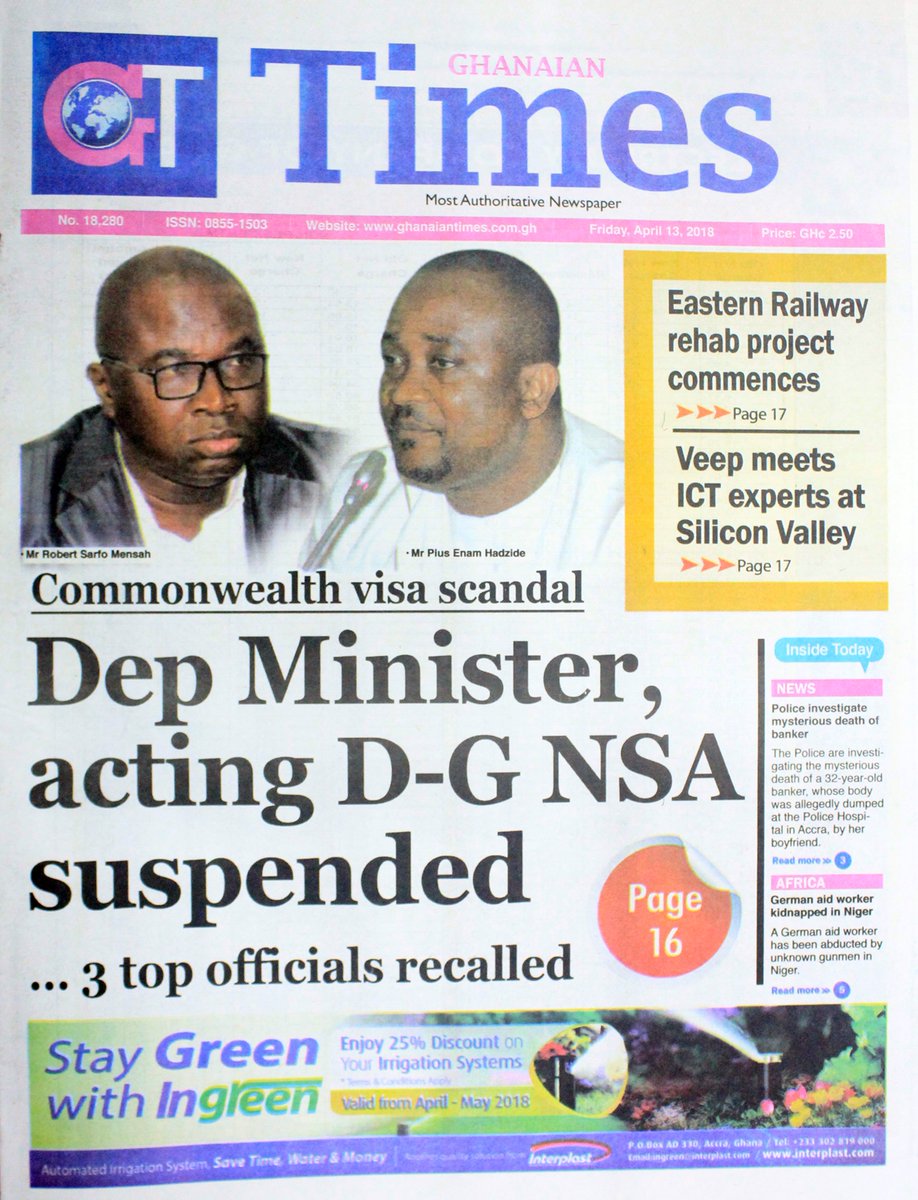 Read Full Story